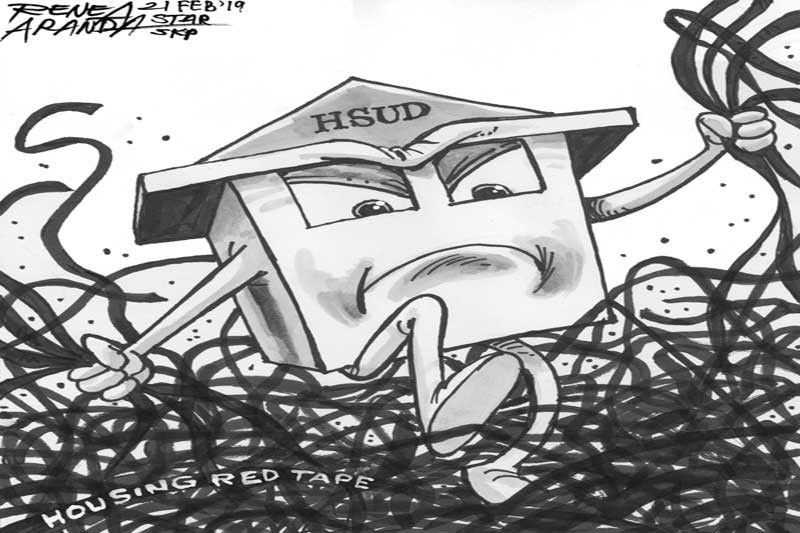 EDITORIAL - A new department
(The Philippine Star) - February 21, 2019 - 12:00am
The first time the country had a ministry in charge of human settlements, it was headed by then first lady Imelda Marcos, who ended up being indicted together with her deputy for corruption related to housing programs. They were cleared by the Sandiganbayan in a ruling that was assailed by victims of the Marcos dictatorship.
So the current administration must make every effort to show that the Department of Human Settlements and Urban Development, created through a law that President Duterte has just signed, will not go the same way.
All housing agencies will now be placed under the administrative supervision of the new department, including the National Housing Authority, National Home Mortgage Finance Corp., Home Development Mutual Fund and Social Housing Finance Corp. The Housing and Urban Development Coordinating Council is being merged with the Housing and Land Use Regulatory Board, which is being reconstituted into the Human Settlements Adjudication Commission.
Consolidating different agencies is meant to eliminate redundancies and promote efficiency. So the new department should not lead to an even more bloated housing bureaucracy.
The lessons from the first human settlements ministry should also not be lost on an administration that touts its campaign against corruption. Authorities and anti-corruption advocates should watch the new department closely to ensure that contractors are not being picked mainly for their connections rather than proven track record in the efficient delivery of goods and services.
There are government procurement laws that must be fully complied with in undertaking housing projects. The new department can draft additional rules to enhance efficiency and transparency in carrying out its mandate. There is technology available for real-time monitoring to speed up project implementation, prevent waste and discourage corruption. This technology-assisted system of monitoring has been introduced in the Department of Public Works and Highways.
Shelter is a basic need, and millions of Filipinos still lack decent housing. The new department will be in charge of one of the most critical components in alleviating poverty and improving the quality of life. Human settlements cannot become bogged down in corruption scandals.