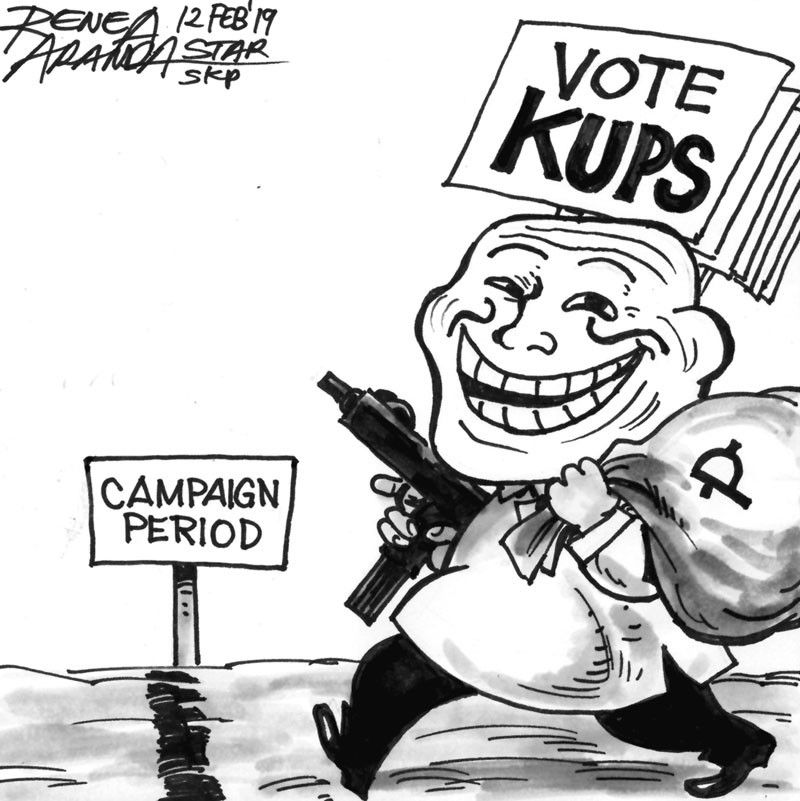 EDITORIAL - Fair and peaceful campaign
(The Philippine Star) - February 12, 2019 - 12:00am
There they go… candidates for the Senate and party-list groups are officially off and running today.
For many voters, the official start of the campaign period may be confusing. Since the end of the period for filing certificates of candidacy, several of those who filed have been displaying billboards and tarpaulins and pitching their virtues on multimedia.
A Supreme Court ruling on a provision of the automated election law, however, effectively declared that there is no such thing as premature campaigning. So the emasculated Commission on Elections can begin regulating campaigning only starting today for national candidates, and on March 29 for those seeking local positions. Since there are thousands of candidates, the Comelec is inevitably swamped.
Now the poll body also sees the need to regulate the use of social media for campaigning and the deployment of trolls for character assassination of rivals. This effort can achieve a measure of success only with the help of groups and individuals who want candidates to compete fairly.
It is said that all is fair in love, war and politics. The way a candidate carries out an election campaign, however, is usually an accurate gauge of the quality of service he or she will render in case of victory. The campaign supporters and financing can indicate a candidate's vulnerability to sweetheart deals and corruption.
The worst candidate is the one who uses armed violence for political ends. Election violence thwarts the people's will and weakens democracy. Everyone can contribute to preventing violence during the campaign period. Violence need not be a permanent fixture in every election season in this country.