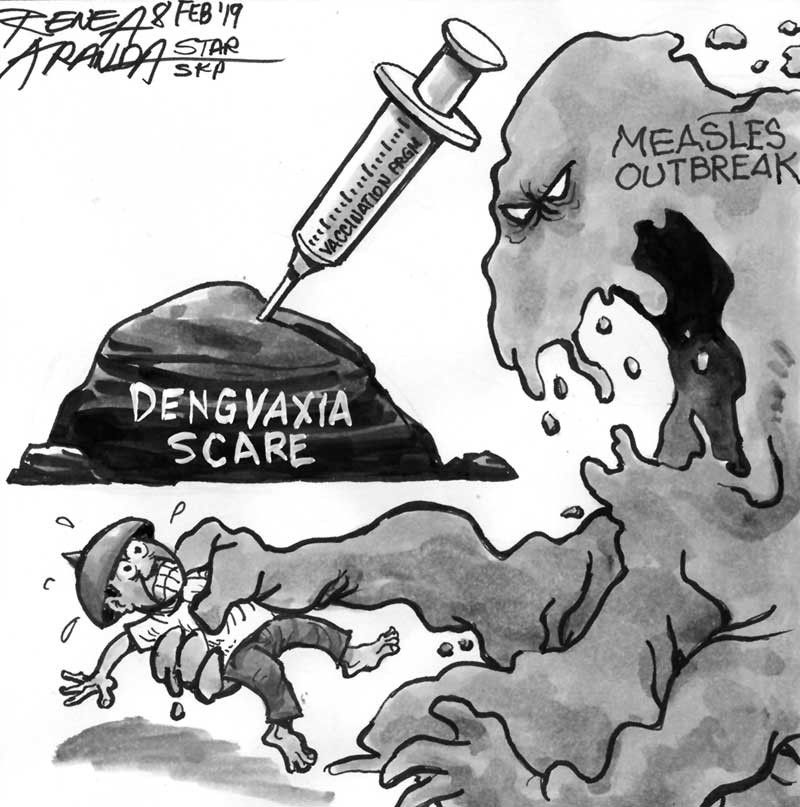 (The Philippine Star) - February 8, 2019 - 12:00am
With the Department of Health declaring an outbreak of measles in five regions as of yesterday, parents are finally overcoming their fear of vaccines and flocking in droves to hospitals to have their children vaccinated.
Measles is potentially lethal especially to young children. Vaccination drastically cut child mortality due to the affliction in the past years. The controversy over the anti-dengue vaccine Dengvaxia, however, created a scare that is not entirely unfounded: tests have shown that the drug can pose potential harm when administered to individuals who have never had dengue.
The warning about the test results was released by the manufacturer itself of Dengvaxia, pharmaceutical giant Sanofi Pasteur. Since then, several deaths have been attributed to Dengvaxia, with lawsuits filed; the controversy has not been resolved. Among the casualties was the government's vaccination program covering several afflictions for which vaccines have been successfully administered worldwide for many years, with little or no controversy.
Now the measles outbreak has compelled parents to get over their fear of vaccines. This, however, is only for one affliction. There are still several other ailments that could surface in outbreaks in the near future, which could otherwise be prevented through vaccination.
Some of these afflictions can cause lifetime debilitation, such as polio, or cause child deaths, such as diphtheria, pertussis, certain strains of influenza and meningococcemia. Among adults, vaccination for the human papillomavirus, which can lead to cervical cancer, has dropped because of the vaccine scare.
With people returning to hospitals for measles vaccination, the government must seize the opportunity to allay lingering fears about vaccines. People need reliable information and reassurance about the safety of a wide range of vaccines. These medications have been around for decades, with no controversies over harmful side effects. Every effort must be made to provide widespread public access to medication that can prevent debilitation and death.