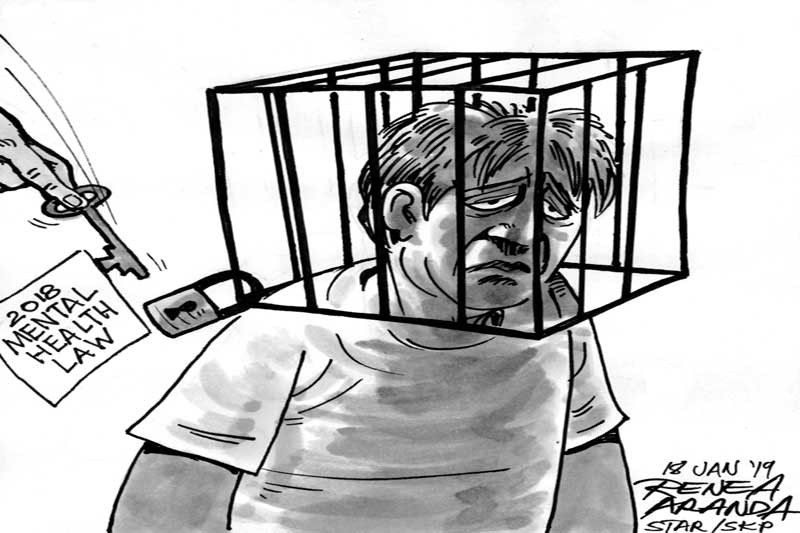 EDITORIAL - Waiting for implementation
(The Philippine Star) - January 18, 2019 - 12:00am
The Department of Health urged the public to stop sharing a video of Razorback drummer Brian Velasco falling to his death from a condominium building the other day. The fall had been livestreamed and had gone viral before the DOH made the appeal out of concern over copycat acts apart from privacy issues.
Depression has always been around, but it took a long time before the country recognized it as a public health problem. In 2014, the World Health Organization reported that there were 2,558 suicide cases attributed to mental health disorders in the Philippines.
Mental health care advocates have noted that suicides are on the rise particularly among the youth. In March 2013, a student of the University of the Philippines-Manila killed herself after failing to pay her tuition. Less than a month later, two students in Batangas also killed themselves over failing grades. In March 2015, another coed in Cagayan took her own life over her inability to pay tuition.
WHO records show that about 450 million people worldwide suffer from various forms of mental health disorders, which are among the leading causes of disability. Aware of the gravity of the problem, Philippine lawmakers have passed a landmark law promoting mental health care.
On June 20 last year, President Duterte signed the law, Republic Act 11036, providing PhilHealth coverage for checkup, medicine and hospital confinement for those needing mental health care. Mental health subjects will be included in school curricula and mental health programs implemented in the workplace.
The implementing rules and regulations for RA 11036 were drafted late last year, but have yet to be signed. The tragedy of Brian Velasco should speed up the approval of the IRR.
There are also hotlines for those needing help: (02) 804-4673 and 0917-558-4673. SMS can be sent to 2919 for Globe and TM subscribers. The message is that there are people who care, and help is available.