EDITORIAL - Fake checkpoints
January 16, 2019 | 12:00am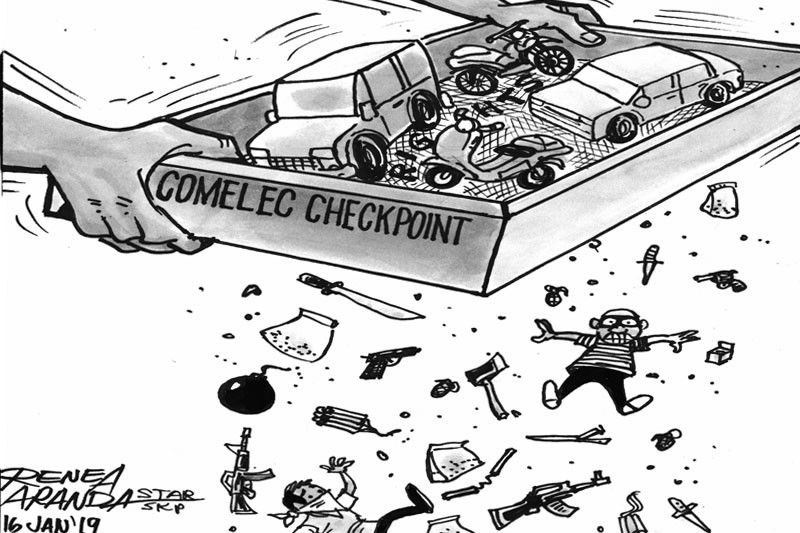 With the official start of the election period on Jan. 13, checkpoints have been set up all over the country. And authorities are warning the public to be wary of fake or unauthorized checkpoints.
Legit checkpoints are properly marked in large signs, and are set up in well-lit spots. Each checkpoint must bear the names and contact information of the PNP officer and representative of the Commission on Elections who are in charge of the area. Police manning the checkpoints must be in proper uniform down to their shoes, according to PNP and Comelec officials.
These details must be emphasized to discourage people from fleeing legitimate checkpoints in fear of extortionists and other criminal elements masquerading as cops. Early in the morning on the first day of the election period, two men on a motorcycle were shot dead after they ignored cops who tried to pull them over at a checkpoint in the city of San Jose del Monte in Bulacan.
Police said the motorcycle did not have license plates, and the two men had sped away, triggering a chase. The two fired at their pursuers, police said, prompting the cops to fire back and kill the two men. Police said they recovered two handguns from the fatalities.
Perhaps the two fatalities really had something to hide. As such stories are rarely verified by PNP Internal Affairs personnel and prosecutors, however, the whole truth may no longer be known and this will likely be declared a closed case.
Other motorists, especially motorcycle riders, should not risk a shootout and learn to recognize PNP-Comelec checkpoints, which will increase during the election period. Almost all contract killers in this country use motorcycles as getaway vehicles, so there is special focus on motorbike riders.
The checkpoints are meant to reduce crimes and armed violence especially with the official campaign period about to start. Public cooperation can reduce the risk of armed violence. But the PNP must also ensure that its personnel will follow clear-cut rules so that the public can easily tell legit checkpoints from fake ones.
People are willing to support efforts to make the election period safe. The PNP and Comelec in turn must implement measures to keep the public safe in complying with security procedures.