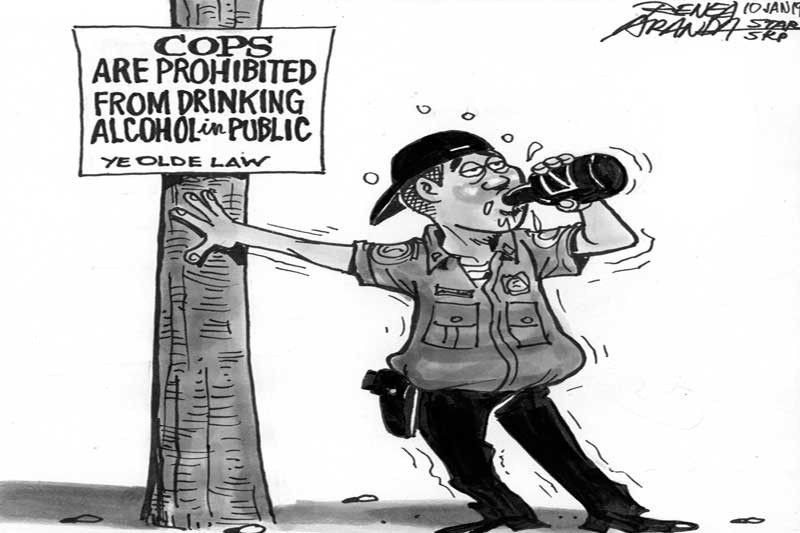 EDITORIAL - Another drinking ban
none (The Philippine Star) - January 10, 2019 - 12:00am
To reduce the risk of fights breaking out during drunken moments, President Duterte has ordered members of the military and police to stop drinking in public places. Both the Philippine National Police and Armed Forces of the Philippines are drawing up the guidelines to implement the President's order.
The President noted that the risk of fights breaking out in bars and other watering holes is heightened when cops and soldiers are packing guns. He said some fights erupt merely over the use of the karaoke microphone, even when those fighting are all singing out of tune.
Whether the order will be carried out remains to be seen. There have been similar orders in the past, under different administrations, but after a brief period of compliance, cops and soldiers return to their old ways.
The President's order came on the heels of another one prohibiting police and military personnel from playing in casinos. He said he ordered the ban after receiving reports of policemen kidnapping patrons at a casino in Metro Manila.
The casino ban on all government officials and employees including military personnel dates back to the Marcos regime. Benigno Aquino III during his presidency had to let go of his Land Transportation Office chief Virginia Torres, after she was caught on video using slot machines in what she described as a gaming arcade rather than a casino.
The casino ban, embodied in two Marcos-era presidential decrees, was reaffirmed by the Duterte administration in a circular issued in September 2016. The reports that reached President Duterte about the recent kidnappings showed that the ban has been ignored.
Police and military personnel have managed to ignore prohibitions on drinking in public places and playing in casinos by simply wearing civilian clothes. It can be impossible for authorities to monitor the movements of every member of the PNP and AFP. But with technology, barangay monitoring and private sector cooperation, violators of the prohibitions may be apprehended at random and meted punishment. The administration must show that the President's order will not turn out to be just another idle threat.