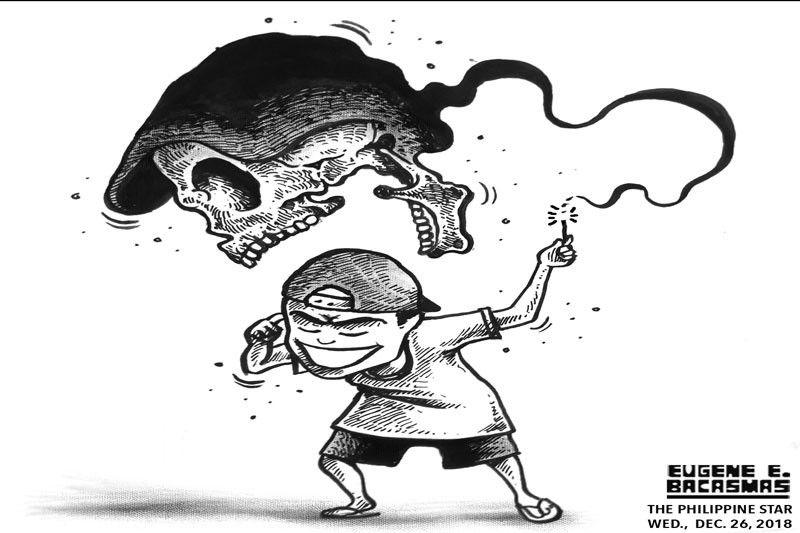 EDITORIAL - Steep price for celebration
(The Philippine Star) - December 26, 2018 - 12:00am
After Christmas Day, people are preparing for the New Year revelry, and authorities can't remind the public enough that it's better to be safe than sorry. The reminder is aimed at those who still want to greet the New Year with a bang.
Adults in particular must be mindful of the need to keep children safe. Last Saturday, the Department of Health reported that a three-year-old girl in Valenzuela was taken to the Philippine General Hospital after accidentally swallowing the contents of a flash bomb. The DOH said another child was injured after exploding a piccolo. The small firecracker, a favorite among children possibly because of its size, is nevertheless banned like watusi because of the high risk of injuries from mishandling. Wounds from firecrackers can develop into potentially lethal tetanus if not treated promptly.
Piccolo and watusi, however, continue to be sold all over the country along with larger and more powerful firecrackers such as pla-pla. Since the DOH started its registry for firecracker injuries on Dec. 21 until Christmas Eve, 13 cases have been recorded. The DOH has warned that the number continues to rise.
While household use of fireworks has been on a steady decline nationwide and some local government units have banned firecrackers, many Filipinos still keep the tradition alive. Fireworks are legal and the industry is regulated, but there are several types that are banned for causing serious injuries and even deaths in the past years.
As is usual in this country, however, enforcement of the ban has been spotty. Banned fireworks are openly displayed in the streets, with vendors playing hide-and-seek with police raiders. Manufacturers of banned items cheekily give the banned products new names, usually after the most controversial figures of the year.
The three-year-old girl at least is on the mend, but several others have died from firecracker injuries, either directly from explosions or because of tetanus. The public must remember that losing a finger, an eye or a life is too steep a price to pay for ringing in the New Year.