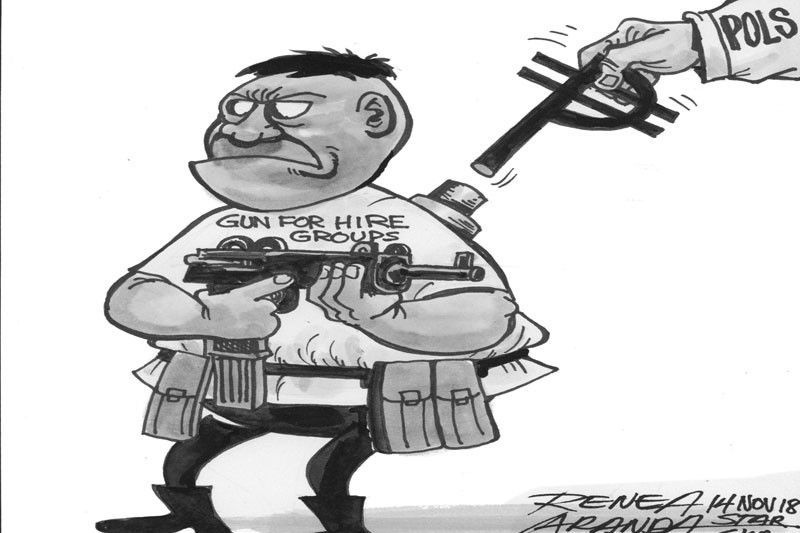 EDITORIAL - The ultimate political tool
(The Philippine Star) - November 14, 2018 - 12:00am
Considering the level of political violence in this country, especially during election periods, it can be surmised that hired guns are in demand. Even if they become the focus of investigations and are usually the only ones arrested in assassination cases, with the brains remaining free, the lure of quick and substantial amounts of money can be irresistible.
Now the Philippine National Police wants to zero in not just on the hired guns but also on the politicians who pay for the killers' services. The PNP is going after the leader of a crime ring, identified as Ricardo Peralta, and politicians suspected to have hired his gang for assassinations.
PNP officials did not identify the politicians but said they are from Metro Manila and several provinces in Luzon. The Peralta gang is also suspected of involvement in ransom kidnappings and other crimes, according to the PNP.
The probe of politicians is a welcome development. If sufficient evidence is found, the politicians should be prosecuted ASAP. In several areas across the country, murder has become the ultimate tool for perpetuating politicians in power and sustaining dynasties.
The Parojinogs of Ozamiz not only hired members of criminal gangs, but were themselves accused of operating as a crime ring. Apart from drug trafficking, the clan was linked to armed robberies. The gang was accused of providing politicians with hired guns, and using dirty money to bankroll their entry into politics. The clan was building a dynasty in Ozamiz when its patriarch, his wife and several other relatives were killed in police raids last year.
Thanks to snail-paced adjudication of cases, criminals can hold public office for many years. The country's political establishment includes murderers, torturers, rapists, world-class thieves, drug traffickers, gambling barons, smugglers – you name it. They are typically experts in money laundering, and election campaigns are a favorite parking place for their dirty money. Convicts are allowed to continue in office until final judgment is handed down – which could happen long after the convict has died of old age.
Such officials will believe they can hire assassins to permanently eliminate their political rivals. The PNP campaign against such politicians deserves full support.