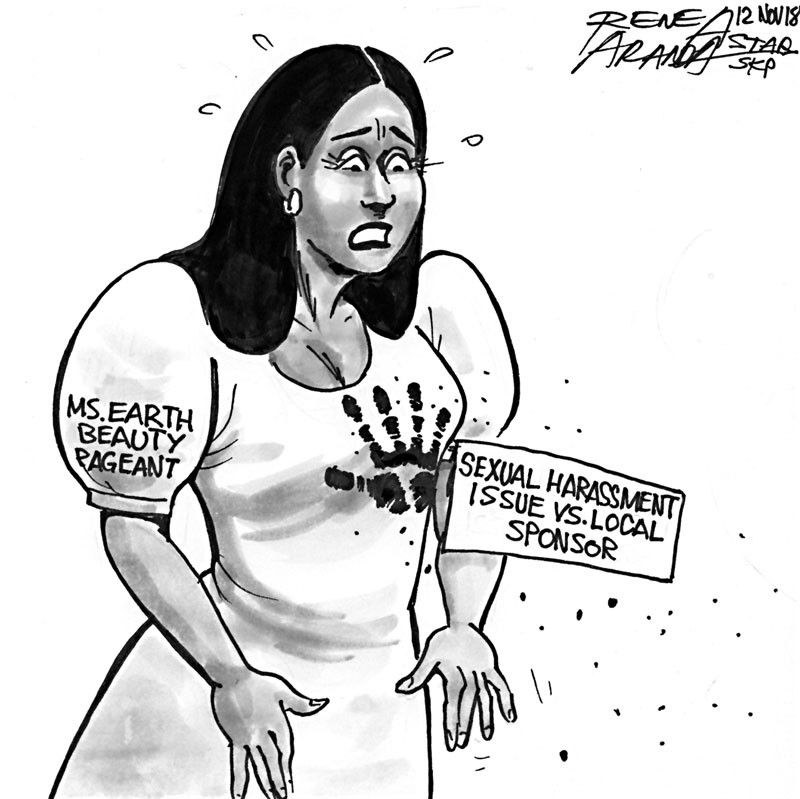 (The Philippine Star) - November 12, 2018 - 12:00am
The Miss Earth beauty pageant prides itself in touting "beauty for a cause" and has long been associated with the Philippines. So Filipinos are hanging their heads in shame after several contestants in the latest Miss Earth tilt complained, initially on social media, that they had been sexually harassed by one of the pageant sponsors.
Authorities should conduct a probe into the accusations, which have a serious impact not just on the integrity of the pageant but also on the image of the country.
Lawmakers, for their part, may want to revisit the Anti-Sexual Harassment Act or Republic Act 7877, which was passed in 1995. It covers sexual harassment in the workplace and schools, but beauty pageants are a gray area. RA 7877 also carries a laughable penalty of just one to six months in prison, a fine of P10,000 to P20,000, or both a fine and imprisonment.
Beauty pageants have been under fire in recent years, notably from women's groups that see the contests as glamorized cattle shows. The behavior of the sponsor, if true, can only reinforce the criticisms. The sponsor, identified as Amado Cruz, has reportedly denied the accusations. But Lorraine Schuck of Carousel Productions, organizer of Miss Earth, said Cruz is now perpetually banned from the pageant.
Authorities should do more than that and explore the possibility of a criminal indictment, for tainting a pageant that has been closely identified with the Philippines and bringing national shame. Penalizing Cruz, if there is basis for the accusations, will also deter similar behavior from other Filipino men who think nothing of propositioning women over whom they think they hold some authority and who still see women as sex objects.