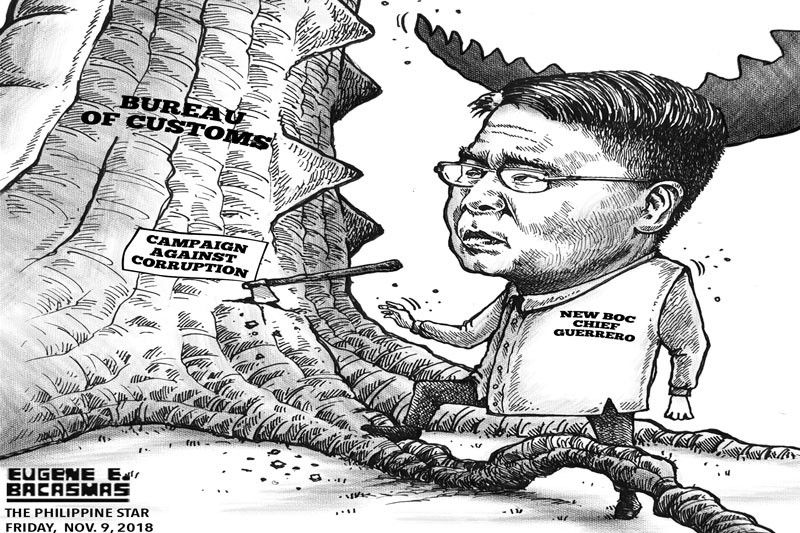 EDITORIAL - Corruption in the BOC
(The Philippine Star) - November 9, 2018 - 12:00am
As ordered by President Duterte, the new chief of the Bureau of Customs has said he is giving priority to the campaign against corruption. Commissioner Rey Leonardo Guerrero is making the right noises, but he is not the first BOC chief to issue such a statement. Whether he can achieve his goal is another story.
Guerrero, a former military chief of staff, has one thing going for him, in a way. After the scandals that hounded the stints of his two predecessors – one a former police chief of Davao City and the other a retired military chief – the new head of the BOC is assuming office with low public expectations.
Doubts have been aired even over the deployment of soldiers in the BOC to deter corruption and drug trafficking. Bribery entered the age of cashless transactions a long time ago, and the crooks in the BOC have always found ways to compel people to pay grease money, and to conceal the payoffs.
Still, the soldiers may keep a closer eye on the inspection of shipping containers to at least make coddlers of drug smugglers think twice about waving shabu shipments through the BOC's so-called green lane.
Alarms have been raised on the use of magnetic lifters for bringing in illegal drugs. While canines of the Philippine Drug Enforcement Agency can sniff out the shabu, humans still have the ultimate say on the release of contraband from the country's ports.
Simplifying procedures and minimizing individual discretion and human intervention in valuation and cargo assessment have been considered as key measures that can eliminate the need for paying facilitation fees or grease money. But something always got lost in translating commitments into action.
This week Guerrero attended his first flag-raising ceremony as Customs chief. Can he succeed where all his predecessors have failed? Since Guerrero is just starting, he still enjoys the benefit of the doubt, and he can count on support from many sectors. Guerrero must do more than his predecessors so that the President and the public will not be disappointed.