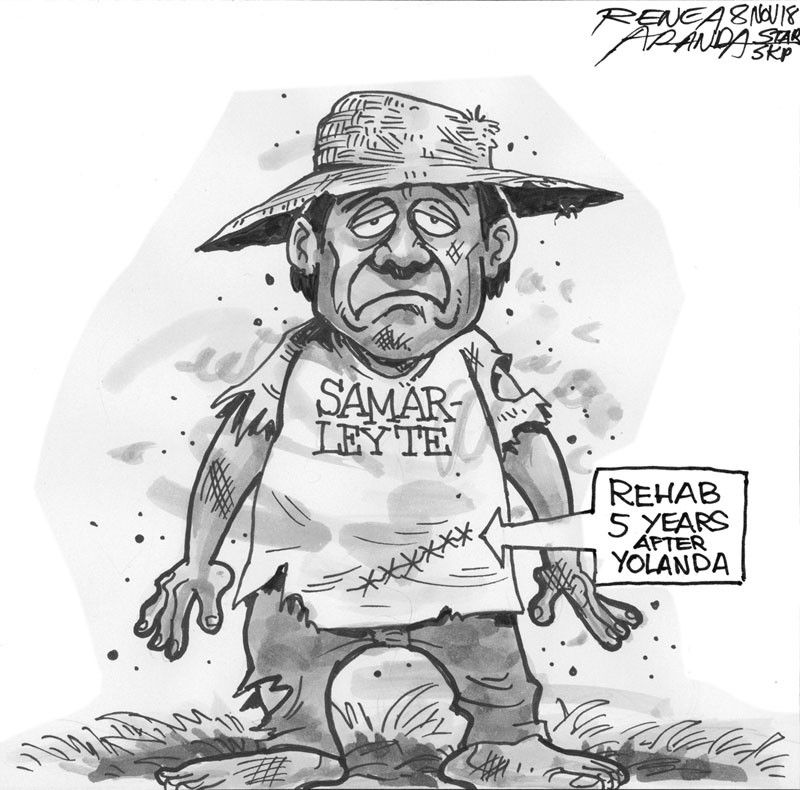 EDITORIAL - Building back after Yolanda
(The Philippine Star) - November 8, 2018 - 12:00am
Everyone warned that building back better would be long and difficult. Still, considering the avalanche of assistance from around the world after Super Typhoon Yolanda flattened Tacloban and much of Eastern Samar and Leyte, people hoped that the pace of rebuilding would be faster than what's usual in this country.
Today, five years after the typhoon and its unprecedented storm surge killed at least 7,360 people, Tacloban is not yet fully back in business. Rehabilitation in Guiuan, Eastern Samar, where Yolanda first made landfall, is still a work in progress. The town's airport, which became an operations center for the delivery of foreign relief goods after the typhoon, awaits upgrading.
Yolanda destroyed an estimated 33 million coconut trees and nearly all the boats of small-scale fishermen in the typhoon's path, obliterating two of the principal sources of livelihood in the affected areas. It takes from six to eight years for coconut trees to be fully productive; the typhoon worsened poverty from which many have yet to recover. Displaced fisherfolk have returned to coastal communities to make a living despite warnings of a repeat of killer storm surges.
The mourning isn't over even after five years, especially for those whose loved ones remain missing. Controversy hounds several of the resettlement housing projects as well as the utilization of rehabilitation funds. Discussions about building back better also raised expectations, perhaps to unreasonable levels, about the quality of the infrastructure and property development that would replace what was destroyed.
No one said rebuilding would be easy, especially considering the extent of the destruction unleashed by Yolanda. But there is always room for faster and better reconstruction, with projects untainted by scandal. Five years after Yolanda unleashed its fury, there must be renewed commitment to the idea of building back better. The commitment must be matched by determined and sustained action.