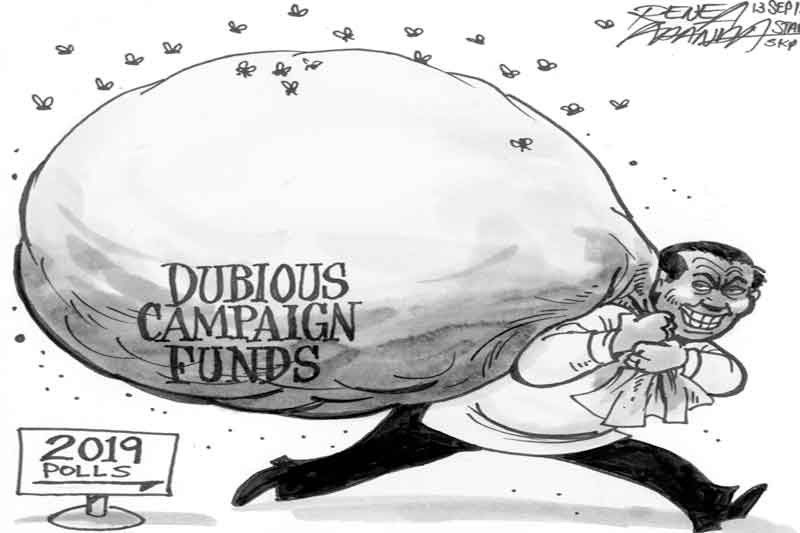 EDITORIAL - Financing campaigns
(The Philippine Star) - September 13, 2018 - 12:00am
As requested by Congress, the Commission on Elections has reset the deadline for the filing of certificates of candidacy from Oct. 1-5 to Oct. 11-17. Lawmakers asked for the postponement to finish their work until Oct. 12 before going on break until Nov. 11.
Once the certificates are filed for next year's midterm elections, the Comelec must exert more effort to monitor fund-raising by the declared candidates and their political parties. For this task, the poll body can tap certain agencies and civil society groups that advocate transparency, good governance and clean elections.
The Comelec can also coordinate with the Bureau of Internal Revenue and Commission on Audit for lifestyle checks on candidates who trigger corruption red flags, with the Anti-Money Laundering Council possibly called in.
Even before the deadline for the filing of candidacies, there are already unconfirmed reports of certain public officials using their positions to raise funds for their planned election campaigns, through questionable methods. The Comelec can set up a hotline for citizens to report anonymously such possible anomalies involving public funds.
Campaign financing is one of the roots of corruption in this country. The corruption is not limited to campaign fund-raising and expenditures, but is carried over to post-election activities. Winning candidates reward their campaign donors and fund raisers with lucrative sweetheart deals, skirting procurement laws.
The donors are also rewarded with appointments to government positions, for themselves or anyone they endorse. This practice is one of the biggest reasons for the failure of the country to develop a meritocracy. When people are appointed to government based on connections rather than competence and integrity, public service suffers.
President Duterte often says that eradicating corruption is one of his top priorities alongside his relentless anti-drug campaign. He can hit two birds with one stone if he supports efforts to crack down on dirty campaign financing, since drug money is also used in election bids. His battle against graft and narco politics can start at the doorstep of elective office, when a person raises the funds for an election campaign.