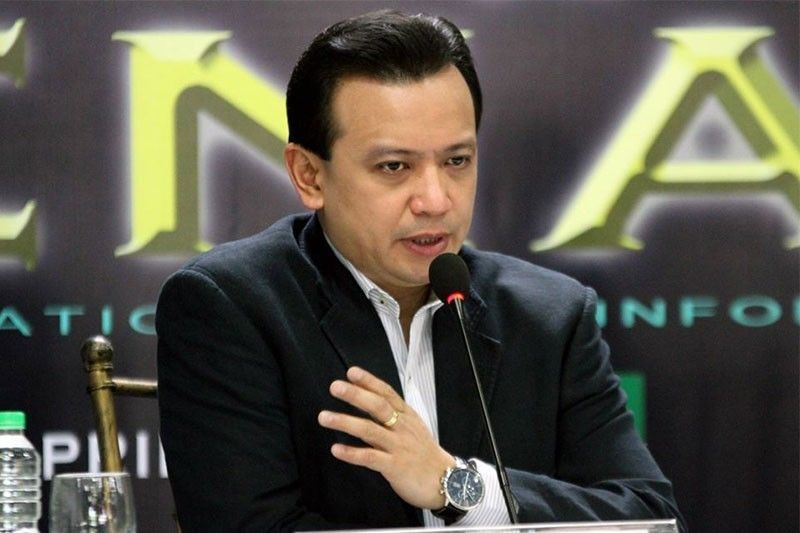 Bothering with Trillanes, instead of food crisis
GOTCHA
-
Jarius Bondoc
(The Philippine Star) - September 7, 2018 - 12:00am
The administration is making a hero of Sen. Antonio Trillanes IV in deploying state might to arrest him. It projects itself a heel by ignoring the food profiteers that thrive on people's frustration and misery.
The troops and trucks waiting outside the Senate to pounce on Trillanes magnify warped priorities. Officials are expending more time and resources just on one man. They are busy revoking his amnesty for mutiny 15 years ago and preparing a court martial.
The poor are left wondering when such all-out government attention ever would be devoted on their plight. Prices of rice, fish, poultry, meat, and vegetables have nearly doubled since start of the year. Large swathes of communities and farmlands are still flooded from two months of heavy rains and long years of neglect. Properties are ruined. People cannot work. The decline of the peso has gnawed deep into purchasing powers. All they get from government is political show.
The basis to nail down Trillanes is cloudy at best. Supposedly not in defense department records are two requisites for amnesty for his two mutinies as a Navy lieutenant in 2003 and 2007. Those are his application for the amnesty and admission of guilt. Yet, images of and news reports on those documents easily can be accessed online. Reverting Trillanes to military status so he can be court martialed for long past offenses seems contrived. The supposedly missing files are from 2011. Yet he has since been a civilian by application of law in 2007 when he filed for senatorial candidacy. He won two terms by garnering 11,189,671 votes in his first election and 14,127,722 in the second. He has since also committed political mistakes. Memorable were: demanding proof of innocence from persons he already adjudged guilty from the start of legislative inquiries, his biggest campaign contributor landing a hefty MRT-3 maintenance subcontract on hazy qualifications, and interloping in the 2012 standoff at Scarborough Shoal that led to Chinese occupation. That the administration is going after him not for those but long closed cases highlights Trillanes' being an opposition leader. Do they want to silence him for constantly questioning President Rodrigo Duterte for supposed multibillion-peso secret deposits?
Larger figures stare the Filipinos. Consider the inflation rates in Southeast Asia: Thailand, 1.62 percent; Singapore, 0.60; Indonesia, 3.20; Vietnam, 3.98; Cambodia, 2.40; Brunei, 0.20; Malaysia, 0.90 – and the Philippines, 6.40 percent.
On paper, investments, exports, and employment are up. Yet incomes are down because of poor quality of work and the triple whammies of higher taxes, food and fuel prices. Supplies of rice and other foods and basic goods are frazzled because of bureaucratic corruption and incompetence. Smuggling is rampant yet scarcity is too, clearly due to hoarding and price manipulation. Relief from misery is what Filipinos need. Not any more political fights out of spite. That only diverts leaders' attention.
* * *
Catch Sapol radio show, Saturdays, 8-10 a.m., DWIZ (882-AM).
Gotcha archives on Facebook: https://www.facebook.com/pages/Jarius-Bondoc/1376602159218459, or The STAR website www://beta.philstar.com/columns/134276/gotcha