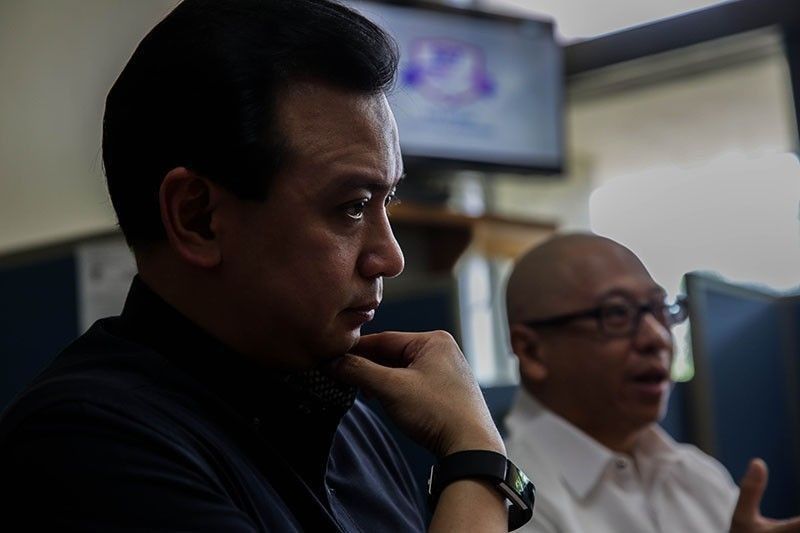 SKETCHES
-
Ana Marie Pamintuan
(The Philippine Star) - September 7, 2018 - 12:00am
Sen. Antonio Trillanes IV isn't the only vocal critic of the Duterte administration, and he's not the brightest opposition member in Congress.
Yet Trillanes has now outshone all his opposition colleagues. And he has the administration to thank for giving him unprecedented name recall – a precious asset in any post that he aspires for in the 2019 midterm elections.
As of yesterday, Trillanes was still holed out in the Senate, using the chamber as his bully pulpit in lambasting Duterte's voiding of his amnesty and order for his arrest.
Even if the arrest pushes through, Trillanes has been held without bail in the past, and it didn't silence him. Detention won't silence him now. Meanwhile, he has become an opposition superstar and rallying point.
The consequences of creating martyrs are well known and could have been easily anticipated. What was the administration thinking? Whoever advised President Duterte to do this deserves to be fired. Unless this was wholly his idea, and he just wants to annoy Trillanes. Well, Trillanes may be annoyed, but he is becoming an even pricklier thorn in Duterte's side.
* * *
I'm unimpressed by mutiny and coup d'etat. I see them as quick fixes with possible short-term usefulness, but which cause long-term institutional damage. They undermine efforts to professionalize the Armed Forces of the Philippines.
The only coup d'etat that succeeded in this country was the one that rode on the coattails of the 1986 people power revolution. All attempts to unseat Corazon Aquino during her presidency failed. But the attempts ruined the economy and set back efforts to recover from the Marcos dictatorship.
Gloria Macapagal Arroyo had her flaws as president. But after EDSA Dos produced her and the string of scandals in her administration following the 2004 general elections, people power fatigue set in, foiling the mutiny at Oakwood, the standoff at the Marine headquarters in Taguig, and the takeover of the Manila Peninsula hotel by rebel soldiers.
Trillanes participated in the Oakwood and Peninsula incidents, for which he and his cohorts faced court-martial.
* * *
Military adventurism should be penalized as swiftly and decisively as it is crushed. For deterrence, pardon or amnesty can come after punishment, at least for the ringleaders, even if amnesty rules allow its grant even before conviction or even indictment.
In our weak republic with its dysfunctional democracy, however, staging a coup attempt earns a slap on the wrist. Booting out a president may be addicting. Members of the Reform the Armed Forces Movement who helped kick out dictator Ferdinand Marcos tried several times to unseat Cory Aquino. They were punished with push-ups by Fidel Ramos.
Mutiny and staging a coup attempt are serious crimes. As in other such crimes, offenders should be permanently barred from holding public office.
In our country, however, depending on which way political winds blow, mutineers and coup participants get reinstated, pardoned or amnestied, with their political rights fully restored. We elect them to high office, or else they get appointed to government posts.
One of the concerns raised regarding the voiding of the amnesty for Trillanes is its impact on other former rebel soldiers who received amnesty. Among them are Metro Manila Development Authority Chairman Danilo Lim and Nicanor Faeldon, who was replaced as customs commissioner but recycled together with two of Trillanes' Oakwood cohorts, Gerardo Gambala and Milo Maestrecampo.
Mutiny pays in this country – unless the former mutineer becomes an arch critic of the person with the power to void the amnesty.
* * *
Does the president of the republic have that power? Some members of the consultative committee on Charter change say the Constitution does not give that power to the chief executive.
Clearly, this is another gray area in the Constitution. Yesterday, as expected, Trillanes' camp elevated the case to the Supreme Court, publicly voicing confidence that the tribunal would be able to rule on the case with fairness. In the SC of Chief Justice Teresita De Castro, however, how can Malacañang and the solicitor general lose? She's in office for less than two months. But the SC ruled with lightning speed on the quo warranto case against Maria Lourdes Sereno.
De Castro's SC can be expected to move just as swiftly and efficiently in any petition questioning the validity of President Duterte's proclamation on Trillanes. The senator has become a personal nemesis of Solicitor General Jose Calida, the same guy who initiated the quo warranto case against Sereno.
Trillanes surely knows he's likely to return to detention. He and his supporters take comfort in the fact that no one is in power forever in this country, and certain individuals are bound to get their comeuppance.
This story has completely eclipsed the President's visit to Israel and Jordan. Duterte should consider giving the boot to the one who advised him to do this.
Trillanes has become a rallying point for those who are standing up to the Duterte administration. People are listening to Trillanes, now more than ever. He should thank Duterte for it.