Another controversy
September 7, 2018 | 12:00am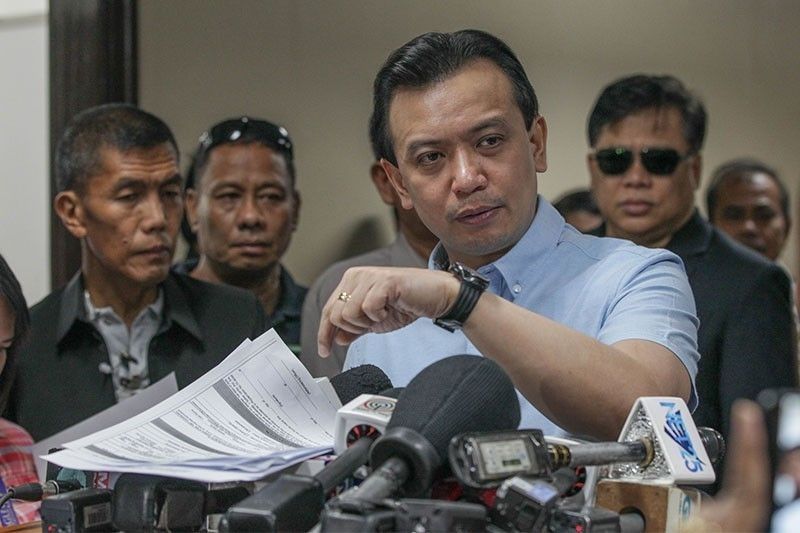 Once more, Duterte has made another highly questionable and controversial move. The latest one is obviously the most controversial and full of inconsistencies and absurdities that compel his coterie of assistants and advisers to come up with explanations which are likewise confusing and somewhat ridiculous. Nowadays, people are not only getting sick and hungry because of the increase in prices of basic foods and other commodities due to inflation, but also getting more confused and uncertain about the way this government is being managed.
First of all, Duterte's advisers claim that the amnesty granted to Trillanes and his military colleagues by virtue of Proclamation No. 75 issued by former President Noynoy Aquino on Nov. 24, 2010 is void ab initio. This means that the amnesty is non-existent from the very beginning. For this reason there is even no need to issue any proclamation regarding its invalidity as it is not existing at all. No less than Chief Presidential Legal Counsel, Salvador Panelo says, "you cannot lose something that you had no right to in the first place." So, instead of issuing said Proclamation No. 572, this government should just have asked the Regional Trial Court (RTC) handling the cases against Trillanes and his military colleagues in connection with the Oakwood Muntiny in 2003 and the Makati Peninsula takeover in 2007, to issue alias warrants of arrest against them and then proceed with the trial.
Secondly, the subject Amnesty Proclamation was issued with the concurrence of the majority of all the members of Congress pursuant to Article VII Section 19, of the Constitution way back in 2010. It has already been implemented and fully accomplished. In fact Trillanes had been qualified and won as Senator twice. Thus it is already "fait accompli" or an accomplished fact. It cannot be undone anymore by mere proclamation especially if there is no concurrence of Congress. Proclamation No. 572 therefore is apparently unconstitutional aside from being moot and academic
Thirdly, this proclamation was issued allegedly because of lack of formal filing of application by Trillanes and an expressed admission of his guilt. Yet no proof of such failure to file and to admit guilt has been submitted. Instead, they merely asked Trillanes to show his application for amnesty and his admission of guilt. This stance is indeed contrary to the long standing rule that he who alleges something has the burden of proving said allegations. He cannot shift such burden to the adverse party without first complying with his own burden of proof. Besides based on news reports and TV footages, Trillanes has already shown that he has filed an Application for Amnesty wherein he has likewise admitted his guilt of the charges filed against him and his colleagues in the military. So it is quite clear that the subject Proclamation 572 has no basis at all.
Fourth, the amnesty declared void here does not only cover Trillanes. It pertains to all the military officers and men involved in the Oakwood Mutiny of 2003 and the Manila Peninsula Hotel takeover of 2007 for which they were charged with coup d'etat. So the Proclamation declaring said amnesty void must be applicable to the other military officers. In this case however the Proclamation is only directed at Trillanes. Singling him out undoubtedly shows that politics is involved here. It also reveals that there is some semblance of truth to the charges leveled by Trillanes against Duterte especially his hidden and unexplained wealth in the banks as well as the involvement of members of his family in the illegal importation of P6.8 billion of shabu.
It is not likewise far fetch that Solicitor General Jose Calida was behind the issuance of this proclamation. Its features bear so much resemblance to the Quo Warranto initiated by Calida against Sereno whose appointment as Chief Justice was also declared void ab initio because it lacks the necessary requirements for its validity, particularly the filing of the Statement of Assets and Liabilities (SALNs). This observation has some semblance of truth because Trillanes now is in the midst of probing the contracts entered into by the security agencies of Calida and his family with the present administration. Being an official of the present government, it is quite obvious that there is a conflict of interest in the multi million peso contract between the government and the security agencies owned by Calida and his family. Thus it is really quite obvious that the declaration of the invalidity and non-existence of Trillanes amnesty is just in retaliation for his charges and moves against this administration particularly against Duterte and Calida. They want to shut him up and get rid of him.
But the ball is now really in the hands of the court particularly Branch 148 of the Regional Trial Court of Makati City, where the coup d'etat charges have been filed against Trillanes and members of the Magdalo group. In fact, a motion for the issuance of an alias warrant of arrest against Trillanes has already been filed supposedly to update the previous warrant issued against him. It seems however that the court will take time to act on the motion because it has now a new judge (Andres Soriano). He said that they have to review the records again which has 53 volumes, and "will see what he can do although he doesn't think he can because he is still trying to retrieve the record which may be in the office or in the bodega already." He also said that there is no standing warrant of arrest against Trillanes because there was "a previous dismissal of the charges against the Senator."
Hopefully, this administration will not interfere here so that truth and justice will prevail in this case.
* * *
Email: [email protected]