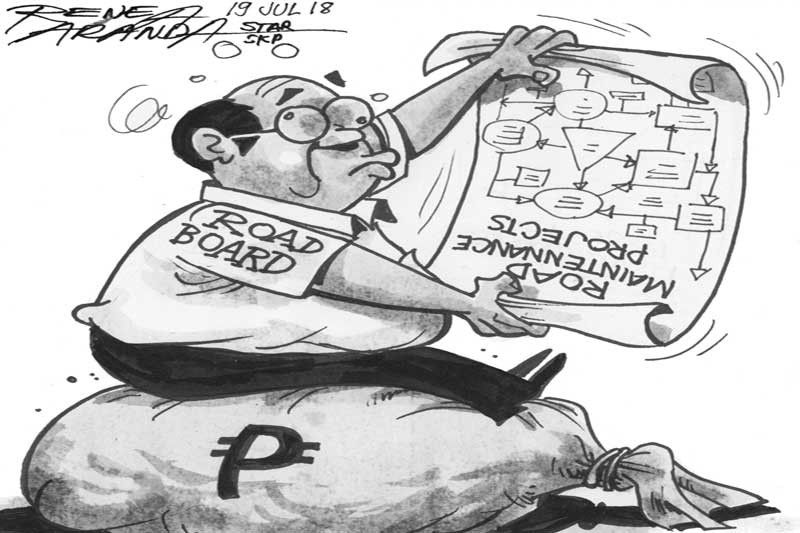 EDITORIAL - Poor implementation
(The Philippine Star) - July 19, 2018 - 12:00am
The two chambers of Congress have passed their respective versions of the measure to abolish the Road Board. Here's another reason to speed up the abolition: a report released last week by the Commission on Audit slammed the Road Board for its inefficient implementation of the P3.973-billion highway lighting program from 2013 to 2016.
The Road Board was created in June 2000 through Republic Act 8794, which imposed a Motor Vehicle User's Charge. The MVUC was meant for the maintenance of national and provincial roads as well as vehicle pollution control. Road maintenance includes road drainage as well as the installation of "adequate and efficient" traffic lights and road safety devices.
Chaired ex officio by the secretary of public works and highways, the Road Board also has as ex officio members the secretaries of finance, budget and transportation, with three representatives from transport and motorist organizations.
For a long time now, the Road Board has faced criticism for its utilization of the MVUC. Recently, the leadership of the House of Representatives cited COA findings that the board had misused P90.72 billion in MVUC from 2001 to 2012. The report was one of the reasons for the approval this year by both the Senate and the House of their respective measures abolishing the Road Board. The two versions still have to be reconciled for President Duterte's signature.
The COA report on the highway lighting program is just the latest installment in the board's actions that state auditors have found questionable. Beyond digging for anomalous deals and even before the abolition of the board, the government must begin improving road maintenance and vehicle pollution control. The quality of a country's road network is an indicator of the quality of governance and level of development. There is a wide room for improvement in this area.