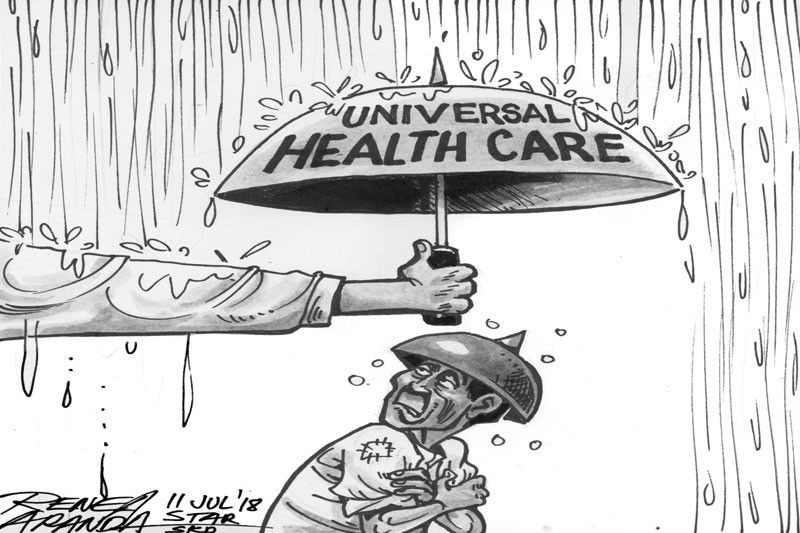 EDITORIAL - Health coverage for all
(The Philippine Star) - July 11, 2018 - 12:00am
Lawmakers can be expected to support the passage of a bill providing universal health coverage for Filipinos, which President Duterte has certified as urgent. This will be a most welcome measure for the millions who live below the poverty line.
The measure, however, must be matched by an increase in health care facilities as well as intensified measures to promote healthy lifestyles. Approving universal health care coverage without a corresponding expansion in public health facilities can only overwhelm existing medical centers.
At the Jose Fabella Memorial Hospital in Manila, which is the National Maternity Hospital, new mothers share not just wards but even beds. Sepsis, which is potentially fatal, is a persistent risk for both mother and infant in many congested state-run maternity centers.
In many emergency wards in government health centers, patients' waiting lines often spill over into the sidewalk. At the Philippine General Hospital, supplies are so tight that doctors, including medical interns, are encouraged to bring their own basic supplies such as alcohol and cotton buds.
Waiting lines at doctors' offices are long even in top private hospitals. The country's health facilities have simply failed to keep up with an ever-growing population. The problem has been aggravated by the continuing departure of health professionals for higher paying jobs overseas.
Preventive health care can complement the universal health coverage scheme. Simply providing access to safe water and modern sanitation would be a boon to public health in underserved communities. Across the country, however, there are still too many communities with no access to clean water and sanitation services.
Water-borne diseases, many of which are easily treated, continue to account for infant and early childhood mortality in these areas. Cholera, which is supposed to have been eradicated, keeps popping up in such communities where there isn't enough clean water for regular hand washing – a basic practice for a healthy lifestyle.
Universal health coverage is a step in the right direction for promoting public health. But it works best in combination with other measures that deserve equally urgent attention from the government.