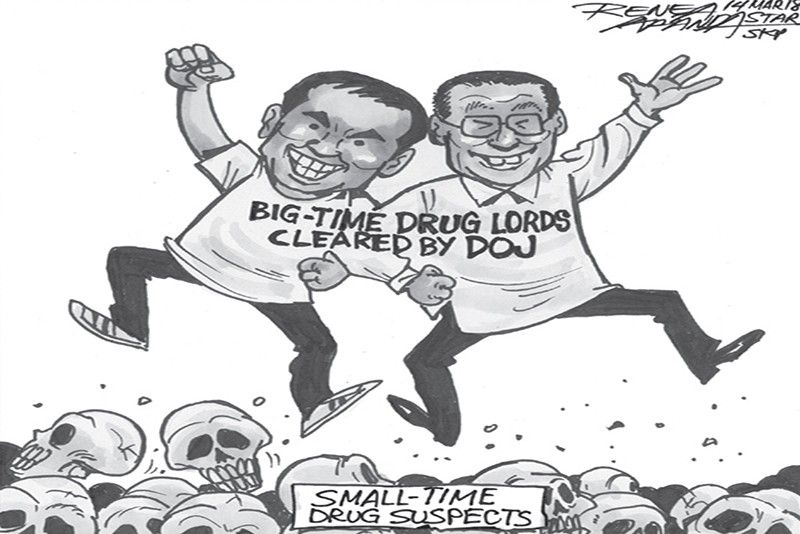 (The Philippine Star) - March 14, 2018 - 12:00am
The presidential spokesman said the fight isn't over yet – "Hindi pa tapos ang boksing." Justice Secretary Vitaliano Aguirre II for his part stressed that his department's junking of drug charges filed against self-confessed drug dealer Kerwin Espinosa, alleged drug trafficker Peter Lim and several other respondents was not yet final.
The clarifications were issued as the Senate considered a probe into the Department of Justice resolution clearing Espinosa, Lim, New Bilibid Prison drug convict Peter Co and more than a dozen other respondents of drug charges.
Espinosa is the son of the late Albuera town mayor Rolando Espinosa, who was shot dead in his jail cell by a police team that was ostensibly trying to search his detention area for drugs during a pre-dawn raid on Nov. 5, 2016. Facing a congressional probe, Kerwin Espinosa said he was the drug dealer and not his father. He also claimed that he contributed money to the Senate campaign of Leila de Lima when she was the secretary of justice.
A state witness, Espinosa's henchman Marcelo Adorco, claimed that Lim supplied the drugs that Espinosa distributed. Lim, a Cebu-based businessman who is reportedly in the most wanted list of the Philippine Drug Enforcement Agency, denied the accusation. He and his brother are supporters of President Duterte, who met with Lim in Davao City when the businessman was implicated in drug deals.
The resolution, signed by Assistant State Prosecutors Michael John Humarang and Aristotle Reyes, questioned the credibility of Adorco and cited weak evidence in dismissing the charges. Aguirre claimed he was unaware of the resolution.
Because of Lim's known ties to the President as well as Espinosa's testimony against De Lima, the DOJ resolution has raised eyebrows, and revived questions on whether the administration is waging a selective war on drugs. Questions have also been raised on why the resolution dated Dec. 20, 2017 was not made public, with the case becoming known only this week after journalists obtained a copy of the resolution.
Any campaign against illegal drugs, corruption and other crimes is always compromised by the selective application of the law. The administration must convince the nation that this is not the case in the ongoing war on drugs.