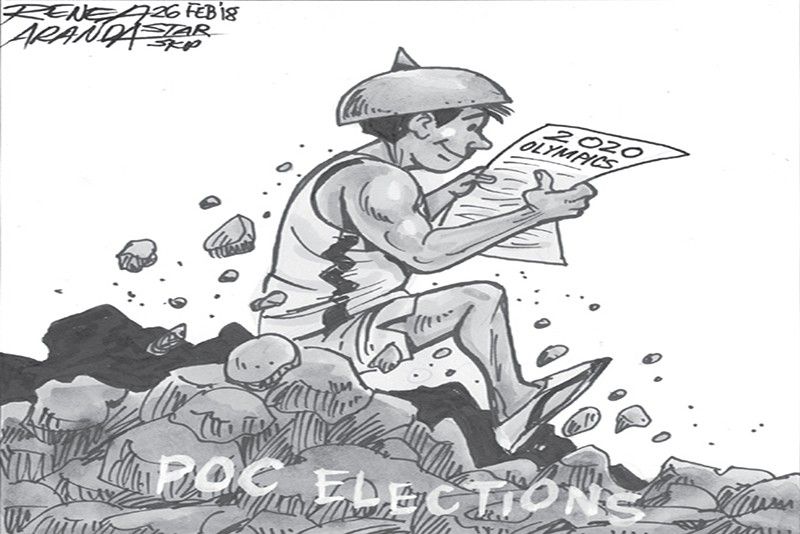 EDITORIAL - Hopes for Tokyo 2020
(The Philippine Star) - February 26, 2018 - 12:00am
Every leadership change raises hopes for reforms and improvements. So expectations are high that with a new man at the helm of the Philippine Olympic Committee, the country may have a better shot at bagging medals in the Olympic Games.
Voting 24-15 on Friday, the POC general assembly picked Ricky Vargas of the Philippine Basketball Association as president of the committee that will be in charge of preparations for the country's participation in the 2020 Summer Games in Tokyo. The election of Vargas in the court-ordered voting amid a controversy that reached the International Olympic Committee ended Jose Cojuangco Jr.'s 13 years as head of the POC.
Leadership issues hounded the POC for years, creating the impression that its officials were more preoccupied with personal feuds than with developing athletes who could bring home honors for the nation in the Olympics. Athletes grumbled that they didn't get sufficient support to prepare for competition with the world's best. Sports officials inevitably bore much of the blame for this failure.
Vargas must focus on the fulfillment of Filipinos' yearning for honors in the Olympics, particularly the gold medal that has eluded the country since it started participating in the Summer Games nearly a century ago. Tokyo 2020 is just two years away. Those aspiring for Olympic honors must use that period to intensify their training.
Sports officials should stop looking for excuses in the country's poor showing in international athletic competitions. Body build doesn't matter in many sports. Thailand has won 33 medals, nine of them gold, since entering the Olympics for the first time in 1952. Neither can poverty be used as an excuse. Ethiopia entered the Games only in 1956, but its athletes – mostly marathon runners from low-income families – have garnered 53 Olympic medals so far, 22 of them gold.
It can be said that intensive, disciplined training and the determination to win are up to individual athletes. But strong and effective support from sports officials can also provide immeasurable help for aspiring Olympians. Change has come to the POC. It should be reflected in the country's performance in Tokyo 2020.