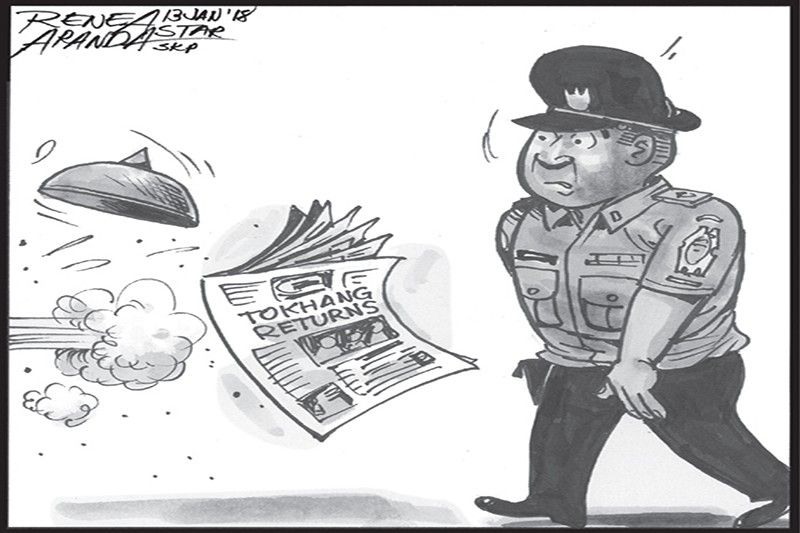 EDITORIAL - 'Tokhang' relaunched, again
(The Philippine Star) - January 13, 2018 - 12:00am
After rejoining the war on drugs, the Philippine National Police is set to relaunch this month its Oplan Tokhang. The controversial anti-drug campaign has seen thousands of drug personalities killed since 2016, with PNP officials admitting that there were cases of mistaken identity and police abuses.
It is the second time that the PNP is rejoining the war on drugs. It was pulled out of the campaign following the gruesome execution of South Korean business executive Jee Ick-joo on Oct. 18, 2016 by members of the Anti-Illegal Drugs Group right inside PNP headquarters at Camp Crame. The AIDG was dissolved, but the PNP eventually revived its bloody campaign, dubbing it Double Barrel Reloaded.
Double Barrel was muzzled and the PNP was again pulled out of the war last year following a string of killings of teenagers believed to have been summarily executed. The Philippine Drug Enforcement Agency was then given the lead in fighting the drug menace. The law in fact specifically tasks the PDEA to be the lead agency in the campaign against illegal drugs, with the PNP and other law enforcement groups providing support.
With the PNP rejoining the campaign, national police chief Ronald dela Rosa has vowed that the relaunch will adhere to the original concept of tokhang, under which police will knock on private homes and "plead" with drug personalities to surrender.
In the previous campaign, witnesses in several cases said there was no pleading. Instead cops simply barged into homes and dragged out suspects, a number of whom were shot dead after allegedly resisting arrest. When those killed included teenagers, surveys showed public support for the war plummeting.
President Duterte has made it clear that he intends to make good on his campaign promise of eradicating or at least making a significant dent against the drug menace. The public generally supports any anti-drug campaign, but there are no quick fixes to this complex problem. Greater zeal is needed to stop large-scale smuggling of drugs from countries such as China. Equal attention must be given to the social and public health dimensions of the problem and the need to give drug abusers a second chance.
Since the start of this administration, egregious abuses and mistakes have been committed in waging the war on drugs. In relaunching Oplan Tokhang, there is no excuse for repeating those abuses and mistakes.