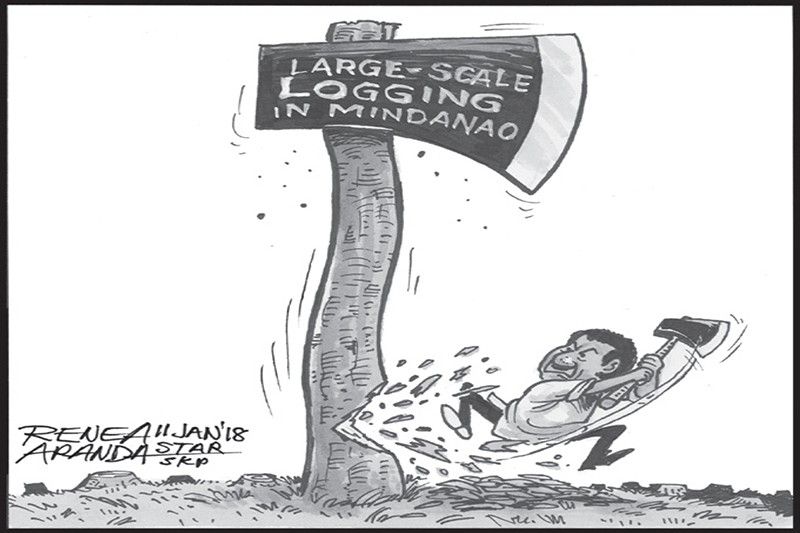 EDITORIAL - Sustainable forestry
(The Philippine Star) - January 11, 2018 - 12:00am
A day after Malacañang announced President Duterte's order to stop the operations of two logging companies, the Department of Environment and Natural Resources has launched a review of the logging concessions granted to 104 private firms.
The President reportedly fumed after being shown video footage of denuded areas in Zamboanga del Norte where more than 40 people died in flash floods and mudslides spawned by typhoons Urduja and Vinta in December. He pinned the blame on the two companies whose logging concessions or integrated forest management agreements reportedly covered the affected areas: South Davao Development Co. Inc. of the Dacon Group and Sirawai Plywood and Lumber Corp. The typhoons also affected other areas in Mindanao including the Davao region. SODACO has said in a statement that linking the company to the mudslides is "premature."
The review of the concessions should not lose steam once the story recedes from the headlines. The world needs forest products for many activities particularly construction. Sourcing the materials locally can contribute to the success of the Duterte administration's "Build Build Build" massive infrastructure program.
But those entrusted to conduct logging and forestry must exercise responsibility, not only to protect the environment but more critically to prevent the loss of lives. Countries such as New Zealand, which has a reputation for being clean and green, have shown that sustainable forestry is possible. It has large areas planted to fast-growing trees that are cut down for wood. Other areas are planted to saplings at various stages of growth for rapid replenishment. Virgin forests are preserved.
The Philippines has several fast-growing trees that can be used for construction and are ideal for reforestation and prevention of soil erosion especially along mountain slopes near populated areas. Fields planted to banana and coconut, which are easily uprooted during typhoons and floods, can be surrounded by fast-growing trees with hardier root growth such as ipil-ipil especially along slopes.
Logging firms, like mining companies, have long been under fire from environmentalists. They can only survive if they comply with limits set on their operations, exercise responsibility and pursue sustainability.