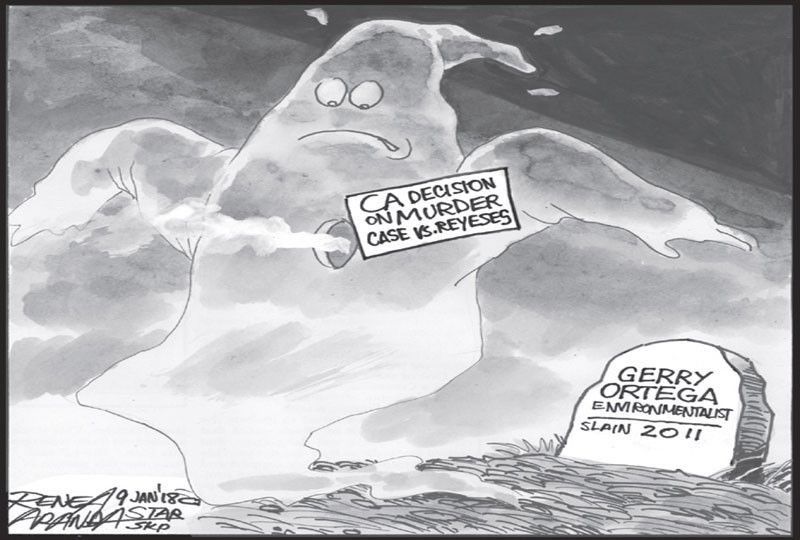 EDITORIAL - Another unsolved case
(The Philippine Star) - January 9, 2018 - 12:00am
With the acquittal of former Palawan governor Joel Reyes on charges that he ordered the 2011 murder of environmental activist and broadcaster Gerry Ortega, the case now joins the long list of unsolved killings of journalists.
Who ordered the hit? The principal state witness against Reyes was his former bodyguard, Rodolfo Edrad Jr. Reyes' personal aide Arturo Regalado has been convicted by the Regional Trial Court in Puerto Princesa for conspiring to recruit hired guns from Quezon to assassinate Ortega, a staunch critic of the governor. Ortega had often lambasted Reyes for corruption related to environmental offenses in Palawan.
Reyes was cleared by a prosecution panel of the Department of Justice in 2012, but a new panel created by then DOJ secretary Leila de Lima revived the case. Following his indictment as the mastermind, Reyes fled and was not heard from for three years, until his arrest by Thai authorities in Phuket. He was turned over to the Philippine government for trial. In January 2016, the Supreme Court tossed out his petition challenging the validity of the RTC trial.
Now a special division of the Court of Appeals has cleared him, saying Edrad's testimony was full of inconsistencies. Reyes, out on bail together with his brother and co-accused, former mayor Mario Reyes of Coron, Palawan, was ordered freed last Friday. The CA majority opinion described Reyes' "second chance" as something akin to a "miracle" and stressed that even his flight was not necessarily a conclusive indication of guilt. Two dissenters, on the other hand, said the CA's majority opinion penned by Associate Justice Normandie Pizarro was based on a "premature conclusion" as the lower court trial was not yet even over.
With no one else implicated as the brains and no other possible motive presented by investigators, the murder case is now in limbo. Miracle or not, the CA order leaves Ortega's stunned family with little hope of ever getting justice.