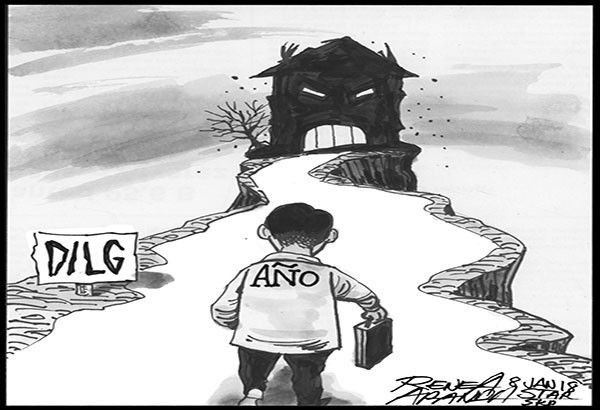 EDITORIAL - A new battle for Año
(The Philippine Star) - January 8, 2018 - 12:00am
As promised, President Duterte has appointed former Armed Forces chief Eduardo Año as head of the Department of the Interior and Local Government. He will serve as officer-in-charge, raising criticism that it goes around the law barring the appointment of military officers from being named to a civilian post within a year after retiring from the service. This practice cannot be institutionalized.
This issue aside, the appointment has raised expectations that Año can have a positive impact on the DILG, after he led the military in ending the Marawi siege and neutralizing top Maute terrorists. Año replaces Catalino Cuy, who also served as OIC in the department after Ismael Sueno was sacked as DILG secretary on allegations of corruption.
The DILG has supervision over the Philippine National Police, which has rejoined the war on drugs that is now led by the Philippine Drug Enforcement Agency, as provided by law. In accepting his new post, Año is reportedly giving priority to the fight against illegal drugs as well as corruption in the agencies now under his jurisdiction.
In battling the Mautes in Marawi, the military under Año managed to make martial law in Mindanao generally acceptable to the nation. This was no simple feat, considering the nation's unfortunate experience with martial law. Año might yet achieve the same feat in the PNP's operations against illegal drugs.
Fighting corruption involves plugging opportunities for graft. Red tape is deliberately designed into systems and processes to encourage the payment of grease money. Año must review how red tape can be cut not only in the PNP and his department but also in local government units. With full support from President Duterte, he should be able to work with the elected politicians who head the LGUs in cutting red tape and curbing corruption.
These are all formidable challenges, but perhaps the man who led government forces in retaking Marawi can make a difference.