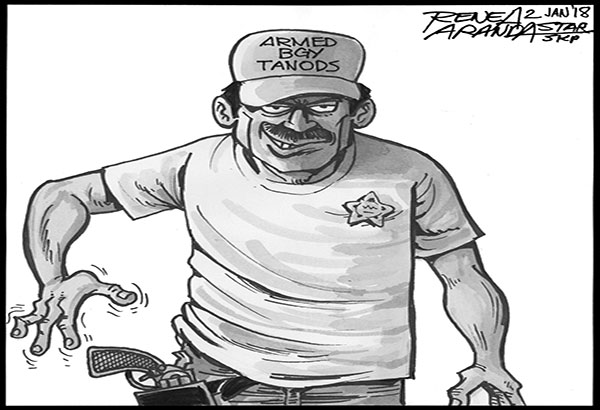 (The Philippine Star) - January 3, 2018 - 12:00am
After that car chase and shooting that killed two persons in a van, Philippine National Police chief Ronald dela Rosa yesterday ordered all barangay watchmen or tanods disarmed. PNP members who had responded to a shooting incident in a Mandaluyong neighborhood on Thursday night last week had said they were told by tanods in Barangay Addition Hills that the suspects had fled on a white Adventure van.
Reports said the village watchmen were the first to open fire on the Adventure, which turned out to be rushing a woman wounded in the shooting incident to a hospital. The pursuing police team followed the tanods as the van pulled over at a junction of Shaw Boulevard. Even with the vehicle pulling to a stop and two of the passengers getting out, however, the police still riddled the van with gunfire.
Beyond disarming the tanods, the incident should spur a reassessment of the role of barangay watchmen. They are supposed to serve as unarmed support units in maintaining peace and order. Since last year, however, many tanods together with barangay officials have been arrested and even killed on accusations of involvement in drug deals. They refuse to assist women who are victims of domestic violence, unaware of the law that requires them to do so.
The shooting in Mandaluyong shows they are also breaking gun laws, and endangering lives with the irresponsible bearing of firearms. In several cases, tanods have been shown to provide the muscle for abetting illegal activity in their barangays, including jueteng operations and coddling of squatters. The tanods serve as the barangay unit's collectors of unauthorized fees imposed arbitrarily on the public for a wide range of activities including home-based micro enterprises and street parking. In some areas, tanods also become part of the private armies of politicians involved in organized crime.
The shooting incident in Mandaluyong, which has put a police unit in hot water, should lead to an overhaul of the barangay setup. Working for the smallest unit of government is not a license to break the law.