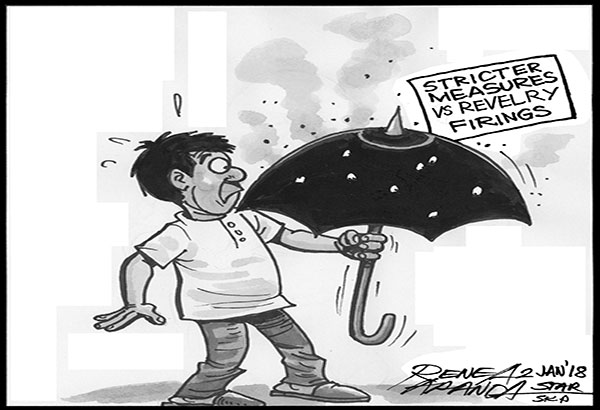 EDITORIAL - Aiming for zero
(The Philippine Star) - January 2, 2018 - 12:00am
With their positions and careers on the line, certain police officials appear determined to deny any incidence of injuries due to celebratory gunfire during the holidays.
A woman who was frying turon or wrapped plantains for a snack at her home in Bantay, Ilocos Sur lost five of her teeth after a .45-caliber bullet crashed through her house roof and hit her in the mouth on Dec. 23. Despite the bullet hole on the roof, the Bantay police insisted that it was not a case of indiscriminate gunfire. The public can't wait to find out who might have shot the woman through her rooftop, and what the motive could be.
For the New Year's Eve revelry, more police officials are in denial about cases of celebratory gunfire in their jurisdictions, despite reports of about a dozen injuries from stray bullets. The Philippine National Police is already suffering from a deficit of public trust, and this can only be aggravated by denials that are inevitably seen as efforts by PNP officials to save their necks.
Undoubtedly, several of the shooting incidents during the holidays were deliberate and not related to Christmas and New Year revelry. But the PNP must classify such incidents properly, instead of lumping them together with cases involving indiscriminate gunfire just to meet the objective of their higher-ups to reduce to zero the incidence of injuries from stray bullets.
People generally understand that completely stopping indiscriminate gunfire during the holidays is complicated in this country teeming with loose firearms. Denying the incidence of stray bullet injuries from celebratory gunfire could lead to the arrest of fall guys with fake stories that will not stand in court. This means failure to apprehend the real culprits. And we all know what happens when people get away with breaking the law: it breeds impunity. If those who fired their guns to celebrate the holidays get away with it, they are likely to do it again next year.