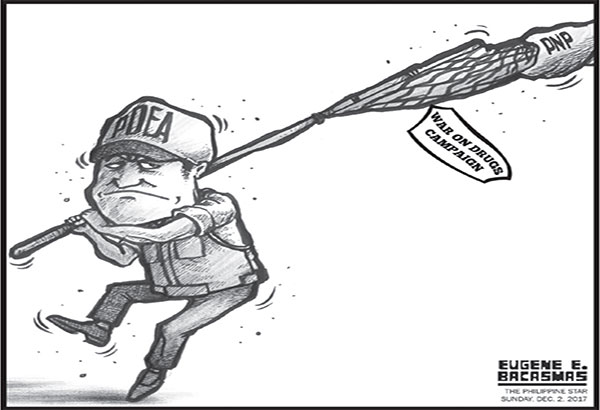 EDITORIAL - Give it more time
(The Philippine Star) - December 2, 2017 - 4:00pm
For some time now, the chief of the Philippine National Police has been carrying out an informal campaign to get back the lead role in the drug war from the Philippine Drug Enforcement Agency. Some quarters see the campaign as an attempt to ensure that the PNP will not lose substantial funding to the PDEA as Congress deliberates on the 2018 national budget.
In fact the law stipulates that PDEA has the lead role in the campaign against the drug menace. This is specifically provided under Republic Act 9165, the Comprehensive Dangerous Drugs Act that was enacted in 2002, which created the PDEA and abolished existing anti-narcotics units of the PNP and the National Bureau of Investigation.
RA 9165 does not prevent the PNP and NBI from enforcing laws against illegal drugs or supporting the PDEA in its mission. But RA 9165 states that when a case or operation being handled by the PNP, NBI "or any ad hoc anti-drug task force is found to be a violation of any of the provisions of this Act, the PDEA shall be the lead agency." It also stipulates that "the NBI, PNP and the Bureau of Customs shall maintain close coordination with the PDEA on all drug-related matters."
Since being given the lead role in the drug war in mid-October, the PDEA has conducted numerous raids and sting operations, apprehending drug suspects and confiscating substantial amounts of shabu, ecstasy and other illegal drugs. The glaring difference is the drop in the number of suspects killed ostensibly while fighting back or resisting arrest.
This should give President Duterte a respite from criticism of his preferred method of waging war on the drug menace. PDEA officials have admitted that compared with the PNP, the agency lacks funds, personnel and equipment for this war. Congress should then do its part by giving the PDEA the necessary resources to carry out its mandate, as provided by law.
The PDEA chief has said the agency is leaving it up to the President to decide whether the lead role should be returned to the PNP. It's early days yet, and there's nothing stopping the PNP and other law enforcement agencies from providing support to the PDEA. This set-up, tried for the second time by the administration, should be given a little more time to produce results, minus the controversies and abuses arising from police handling of the drug war.