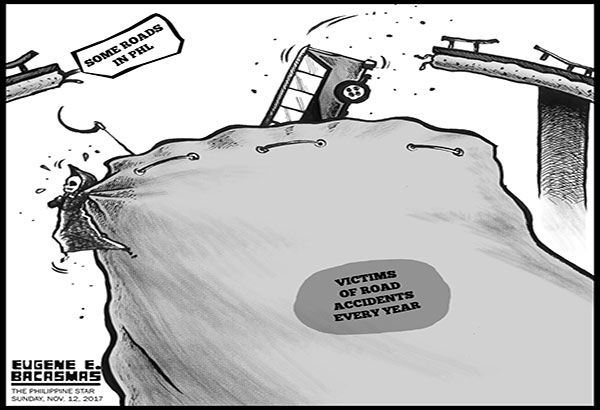 (The Philippine Star) - November 11, 2017 - 4:00pm
There is another downside to inadequate public transportation facilities and infrastructure: around the country, road safety is weak and fatal road accidents are on the rise.
Last year, 2,144 people died in road accidents nationwide – a jump of 106 percent from the 1,040 recorded deaths in 2015. This is according to data from the police Highway Patrol Group, which the Department of Transportation presented at a forum on road safety organized on Nov. 9-10 by CIFAL Philippines, a United Nations-affiliated training center in the University of the Philippines, together with the UN Institute for Training and Research, the UP National Center for Transportation Studies and Diageo.
The Philippine Statistics Authority has higher figures, recording 10,000 deaths related to road crashes in 2015, up from the 8,000 in 2011. With more than 1.2 million lives lost worldwide every year due to road traffic injuries, the UN launched the Decade of Action for Road Safety in 2011. Its target of cutting by half the number of deaths and injuries from road accidents by 2020 is in the UN Agenda for Sustainable Development.
Attaining that target has to be one of the toughest challenges for the Philippines and its traffic-choked urban centers, where sidewalks for pedestrians are so inadequate commuters wait for rides right along the road and in the path of approaching vehicles.
Outside the crowded cities, poorly maintained vehicles, reckless driving and the inadequacy of road safety features combine to make deadly road accidents depressingly common. The Road Board, which receives a share in the fees paid for the registration of every motor vehicle, is a white elephant whose utilization of public funds for road safety has been the subject of several congressional inquiries.
Other countries have shown that it is possible to bring down the number of road traffic accidents. The transportation department is reportedly set to launch this month a comprehensive plan to enhance road safety. The public can only hope this will go past the planning stage.