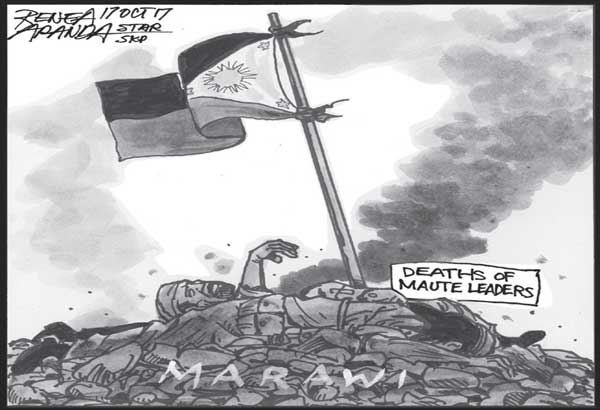 (The Philippine Star) - October 16, 2017 - 4:00pm
The photographs are grisly. But just to leave no doubt that this time, reports of the deaths were not exaggerated, graphic photos were released yesterday showing Abu Sayyaf commander Isnilon Hapilon and Omar Maute bloodied and dead.
Hapilon, said to be the Southeast Asian leader of the terrorist Islamic State, had a $5-million prize on his head plus another P10-million bounty from the Philippine government. The military was preparing to capture Hapilon when he launched the attack on Marawi back in May together with the brothers Omar and Abdullah Maute. Much of the once bustling city is now in ruins in the wake of the most serious attempt yet to set up an Islamic extremist base in Mindanao.
The siege has had a grievous toll. As of yesterday, over 800 Maute terrorists had been killed in the fighting. So far, the military has lost 162 soldiers, with over 1,700 others wounded, while 47 civilians have died. Although remnants of the Mautes still have about 20 civilian hostages, the neutralization of Hapilon and Omar Maute raises hopes that the fighting will soon be over.
The military counts fewer than 30 Maute members still in Marawi together with a handful of foreign fighters mostly from Indonesia and Malaysia. Now the challenge is to ensure that the Mautes will not regroup and launch a similar attack. The group clearly took the government by surprise, depleting the resources of the Armed Forces and keeping the fighting alive for nearly five months now.
Armed Forces officials said that with the deaths, "the terrorists will crumble." But the whereabouts of Abdullah Maute are unknown, and the group can prove to be like the Abu Sayyaf, which has been decapitated several times but keeps sprouting new heads like a Hydra monster.
For several decades now, the military has pursued a counterterrorism and counterinsurgency strategy that has been summarized as "clear, hold, consolidate and develop." The clearing of the threat is almost over in Marawi, and the military is holding on to abandoned battlegrounds. The government must now step in to consolidate victories in the fighting and pour resources into rehabilitation and development of the battered city. If properly implemented at each step, it is a sound strategy that can prevent a repeat of the Marawi siege.