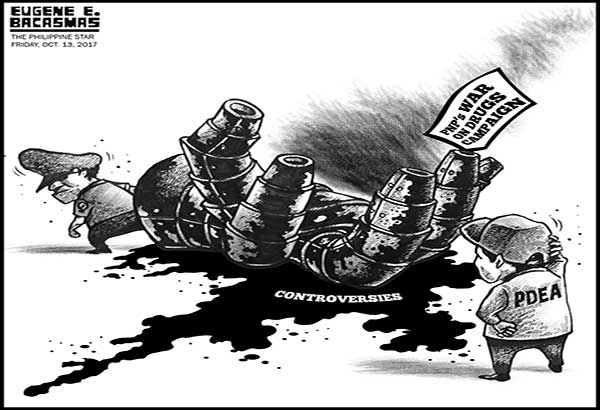 EDITORIAL - Learning from Tokhang
(The Philippine Star) - October 12, 2017 - 4:00pm
Pulled out of the drug war for the second time this year, the Philippine National Police announced yesterday the end of its anti-drug operations code-named Tokhang and Double Barrel. In place of the PNP, the Philippine Drug Enforcement Agency will take the lead role in the war against illegal drugs – a top priority of President Duterte.
PNP officials admitted that the moves were made after the sharp fall in the President's latest satisfaction and trust ratings were attributed by pollster Social Weather Stations largely to the brutal methods employed in the war on drugs. The PNP, which insists that there has been no extrajudicial killing in the course of the anti-drug campaign, will henceforth focus on fighting other crimes.
In a speech yesterday, during which his audience at Malacañang replied "no" when asked three times if they were willing to take up arms and shoot drug personalities themselves, the President indicated misgivings about the PDEA takeover as he railed against the "bleeding hearts" who have criticized his drug war.
The President can take heart in the fact that surveys have shown general public support for fighting the drug menace, although not for the vicious methods that have led to the killing of thousands of suspects. His campaign can still rack up victories, if he gives the PDEA the support that it will need to carry out its work.
PDEA officials have said that the agency lacks the resources and manpower of the PNP. In going after drug personalities, the PDEA must be able to tap the resources and personnel of other law enforcement agencies including the PNP and National Bureau of Investigation as well as the Bureau of Customs police. Pronouncements from the President and the PNP chief yesterday, however, indicated that the PDEA would be left to do the job on its own.
PDEA officials surely understand the need to avoid the abuses and mistakes under Tokhang and Double Barrel. The PDEA must show that a successful campaign against illegal drugs need not be characterized by a killing spree.