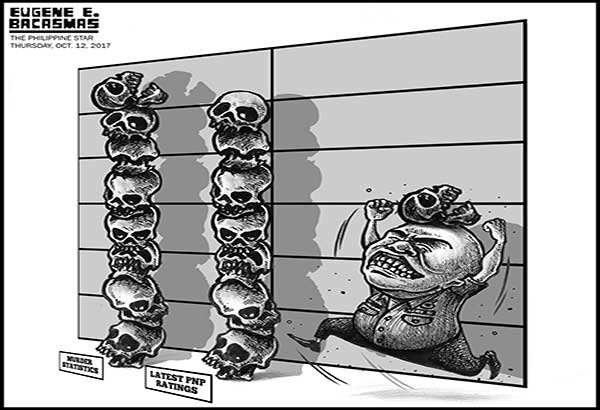 (The Philippine Star) - October 11, 2017 - 4:00pm
Murder is premeditated and accompanied by treachery. That description fits the drive-by shootings carried out by men on motorcycles that have become depressingly common in the time of Oplan Tokhang and Double Barrel. Witnesses and video from surveillance cameras have also indicated that anti-drug police units have executed suspects who were handcuffed and on their knees, including teenagers.
Yet the Philippine National Police wants the public to believe that there is not a single case of extrajudicial killing or EJK in this country. The latest declaration from the PNP is that the murder rate went down by eight percent nationwide in the first eight months of the year compared to the same period in 2016.
Expounding on its claim, the PNP said its Directorate for Investigation and Detective Management recorded 6,391 murders from January to August this year. This is 554 cases fewer than the 6,945 recorded in the first eight months of 2016, the PNP reported.
The figures might be accurate, but it's a measure of the PNP's loss of credibility that its pronouncements have been met with derisive incredulity. In fact PNP officials have simply echoed the official line of the Duterte administration in denying the existence of EJKs in the course of the war on drugs, with the claim based mainly on disagreements over a definition of terms.
What is undeniable is that thousands of people who have not been indicted, much less convicted of any crime have been killed. Police have said some of the fatalities were killed when they fought back – the now infamous nanlaban – while others might have been murdered by cohorts or enemies in the illegal drug trade.
The messy conduct of this war must have contributed to President Duterte's decision yesterday to pull out the PNP from the front line and replace it with the Philippine Drug Enforcement Agency. It's not the first time that the PDEA was tasked to serve as the lead agency in the war on drugs. Last January, a similar move was ordered and the PNP suspended its anti-drug operations after the kidnapping and gruesome murder of South Korean businessman Jee Ick-joo in front of the office of the Anti-Illegal Drugs Group right inside PNP headquarters at Camp Crame.
The PNP was soon back in the saddle. Now we have the horrific killings of teenagers, with surveys showing significant negative public reaction. Other surveys also show that more people feel unsafe, which defeats the purpose of the take-no-prisoners approach to fighting crime. No amount of debate over semantics and rosy reports from the PNP can sugarcoat this.