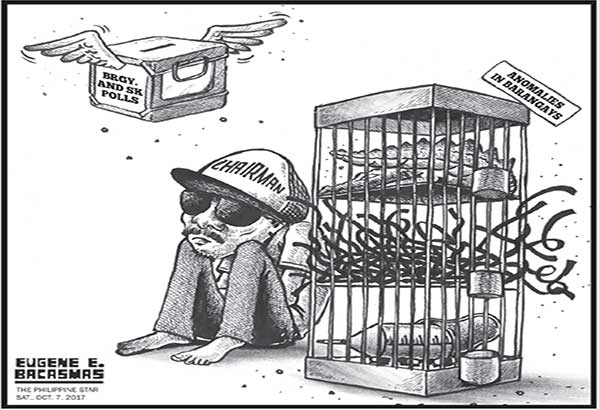 EDITORIAL - Beyond postponement
(The Philippine Star) - October 6, 2017 - 4:00pm
Saying 40 percent of barangay captains are involved in illegal drugs, President Duterte has postponed for the second time the barangay and Sangguniang Kabataan elections. From the original schedule of Oct. 23, the polls have been reset to May 14, 2018, with the next elections to be held on the second Monday of May 2020.
The President had asked Congress to postpone the elections, arguing that drug money could finance campaigns and aggravate narco politics. His list of narco politicians reportedly includes thousands of barangay captains and council members. Since the President launched his war on illegal drugs, barangay officials have been among the thousands of people who have been shot dead either by police or masked vigilantes.
Beyond purging the ranks of village officials of drug personalities, Malacañang and Congress should review the powers and functions of the barangay. President Duterte, who often says he detests corruption and has been ordering officials to speed up the delivery of government services, must be aware that barangays are among the biggest contributors to red tape.
Barangay units have designed processes and imposed fees that overlap with those required by city or municipal governments for businesses from the smallest home-based enterprises to big-ticket foreign investments. Those barangay impositions are among the biggest factors that pull down the country in international rankings on ease of doing business, driving away investors and dampening entrepreneurship.
Along many roads in the city of Manila, parking fees are collected by barangay personnel, with no receipts issued and the collector simply pocketing the cash. Those fees are supposed to go to the barangay fund and not to individual pockets, and must be subjected to government auditing. Barangays are also tasked, together with the police, to prevent squatting. Yet in several areas all over the country, barangay officials themselves act as landlords in informal settlements, collecting rent from squatters.
As for the SK, there are many other better uses for the public funds expended for maintaining the youth councils. Lawmakers should find other entry points into politics for their children without imposing an additional burden on taxpayers. More than postponing the elections, the SK should be abolished. And grassroots governance through the barangay needs an overhaul. The extent of the drug problem among barangay officials shows the rot in this system.