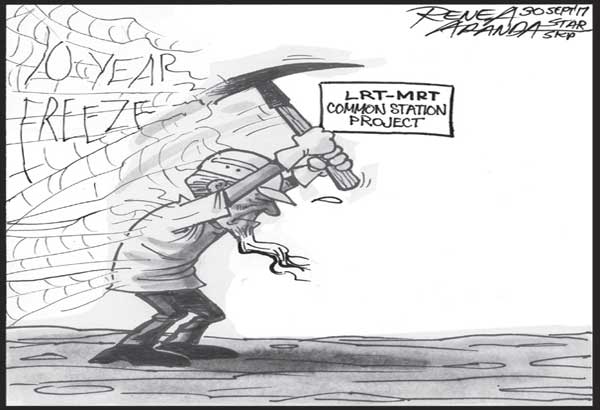 EDITORIAL - Institutional weakness
(The Philippine Star) - September 29, 2017 - 4:00pm
Finally, groundbreaking pushed through yesterday for the common station connecting the Metro Rail Transit and Light Railway Transit lines in Quezon City. The project has been 10 years in the making, and commuters must wait for another two and a half years at least before the project is completed.
The project was delayed by corporate competition for the location of the common station, which will now be shared by SM North EDSA and Ayala Malls' TriNoma. The competition is typical and can be expected from companies. Unfortunately for the public, the inordinately long wait for the resolution of the dispute has also become typical in this country.
Such disputes should be settled quickly at the level of the executive agency concerned – in this case the Department of Transportation. Instead the project became a tug-of-war among competing corporate interests, with the executive branch failing to settle the issue. In 2014, the case went to the courts, where it languished for another three years.
Apart from the long wait for commuters, the delay has also meant an increase in the cost of the project, from the original estimate of P2.6 billion to P2.8 billion. This is just the latest example of the weak capacity of the state to settle business disputes, even involving critical projects. The NAIA Terminal 3 and the NorthRail train project, both snagged by corruption scandals, are just among the examples of this institutional failure.
This problem has been among the factors that have made the country a regional laggard in attracting foreign direct investment. Combined with the inability of the state to guarantee the sanctity of contracts, the problem is a major disincentive to investments. To deal with these problems, investors from certain countries have taken to demanding the inclusion of a clause in their contracts that requires international arbitration in case of future changes or disputes in their projects.
With the common station finally moving, stakeholders should work with the executive and Congress to craft laws and regulations that will speed up business dispute resolution. Inadequate infrastructure is also among the factors driving away investors and pulling down national competitiveness. This inadequacy can be blamed in part on the weakness of mechanisms for resolving business disputes. If it takes 10 years to break ground just for a common light railway station, the nation will never catch up with its neighbors.