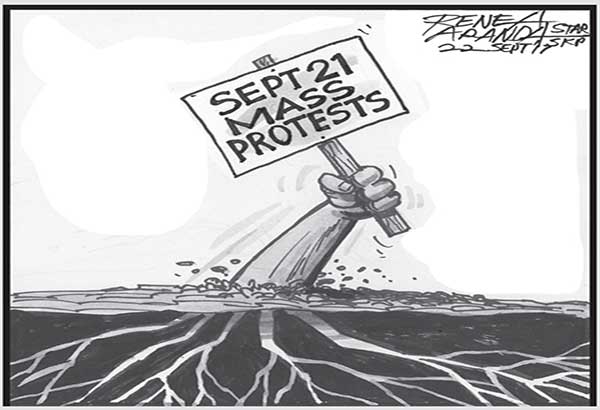 EDITORIAL - Seeds of discontent
(The Philippine Star) - September 21, 2017 - 4:00pm
For the first time since the start of the administration, an anti-government rally drew a respectable crowd. From various points in Metro Manila and nearby areas, the protesters marched to Rizal Park in Manila, where they gathered late yesterday afternoon to denounce human rights abuses by state forces and promised to prevent a return of dictatorial rule under martial law.
The protests were held as Mindanao remained under martial law and dictator Ferdinand Marcos rested in peace at the Libingan ng mga Bayani. The Armed Forces of the Philippines, however, can validly claim that it is a different military, and it may be counted on to uphold democracy. Public perceptions of the AFP's implementation of martial law in Mindanao, and particularly in besieged Marawi City, have been generally positive.
Fears of a Marcos-style martial law, however, and criticisms of human rights abuses under the current administration are directed at the Philippine National Police. Malacañang has been trying to dispel criticism that the PNP abuses are sanctioned or made possible by President Duterte himself.
There is also public disappointment over the government's treatment of the Marcoses. The President's repeated statements about hating corruption lose traction when he is perceived to be playing footsie with the Marcos clan.
In recent days, the President and his PNP officials have been issuing more nuanced directives in the conduct of the war on drugs, with emphasis on respect for civil liberties. His allies in the House of Representatives also made an about-face in the 2018 funding for the Commission on Human Rights.
President Duterte will likely continue to enjoy high approval ratings in the next survey. But yesterday's protest actions indicate that the seeds of discontent are germinating, and a government ignores them at its own peril.