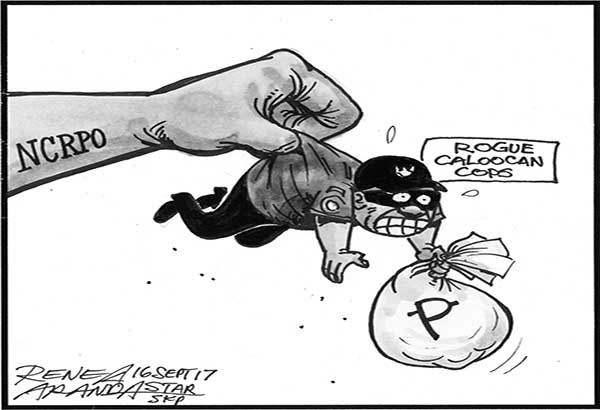 EDITORIAL - Cops, robbers
(The Philippine Star) - September 15, 2017 - 4:00pm
The robbers reportedly ignored warnings about the presence of a surveillance camera, which is fortunate, because it recorded them breaking into the home of Gina Erobas in Caloocan City's Barrio Sta. Rita on Sept. 7.
Like ordinary burglars, the suspects used a bolt cutter on the gate. Unlike ordinary burglars, however, the men who broke into the home and accused Erobas of hiding shabu were members of the Caloocan City police. A neighbor arrested by the raiders for shabu possession, who reportedly harbored a grudge against Erobas, had tagged her as his supplier. Erobas denied the accusation and no drugs were found at her home. But at least two of the raiders took her mobile phone, two wristwatches and a wallet with P6,000 in cash.
The armed robbery by plainclothes policemen accompanied by several civilians was on top of recent killings of teenagers attributed to anti-drug units of the city police. The police station commander in charge of the area said his men reported the raid to him but not the break-in and robbery, describing the operation as part of Oplan Galugad.
The only positive aspect in this sordid story is that the robbery must have served as the last straw. Yesterday, the entire Caloocan police force, except for its chief and deputy who were appointed only recently, was sacked by the head of the National Capital Region Police Office. The 13 cops in the raid, who face charges of robbery, trespass to dwelling and child abuse for terrifying Erobas' grandchildren, also received a public scolding from Director Oscar Albayalde of the NCRPO.
It was a comedown for the Caloocan police, which only last Aug. 18 had received an award as Best City Police Station during the 116th Police Service anniversary celebration at Camp Bagong Diwa in Taguig. On the same day, the parents of Carl Angelo Arnaiz found his remains in a mortuary in Caloocan. Several city policemen are facing charges for what is believed to be the summary execution of the former student of the University of the Philippines.
Caloocan has recorded one of the highest cases of drug-related killings since Oplan Tokhang was launched last year. The environment that turned cops into robbers and murderers is still there. Unless there is drastic change in that environment, sacking an entire city police force will not stop abuses.