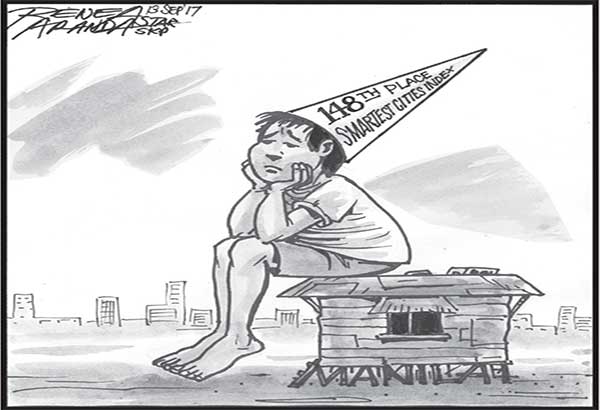 EDITORIAL - Not so livable city
(The Philippine Star) - September 12, 2017 - 4:00pm
Metro Manila residents won't dispute the results of this study: among 180 cities in 80 countries, the Philippines' capital region was ranked 148th in terms of livability or being a "smart" mega city.
The latest Cities in Motion Index, published for the fourth year by the Spain-based University of Navarra's IESE Business School, rated the cities in terms of governance, urban planning, public management, human capital, economy, environment, transportation, technology, social cohesion and international impact.
In Southeast Asia, Manila was ranked a long way below city-state Singapore, which placed 22nd. Thai capital Bangkok placed 86th; Malaysian capital Kuala Lumpur, 92nd, and Ho Chi Minh in southern Vietnam, 146th. In the Asia-Pacific, Singapore ranked third after South Korean capital Seoul and Japan's capital Tokyo. Hong Kong and Taipei followed.
Manila got its worst rating, at 174th place, in terms of transportation, which should not be surprising to residents. It was ranked 160th in terms of governance, 147th in environment, 145th in urban planning, 140th in social cohesion, 139th in human capital, 131st in economy, 103rd in technology, 68th in international impact and 57th in public management.
The rankings can be seen as indicators of the attractiveness of Asia's mega cities not just for long-term residency but also as destinations for investments and tourism. The rankings are also the latest indicators of the Philippines' slip in competitiveness. Never mind trying to catch up with the world's most livable cities New York, London, Paris, Boston and San Francisco. Manila should be able to catch up at least with other Asian cities.