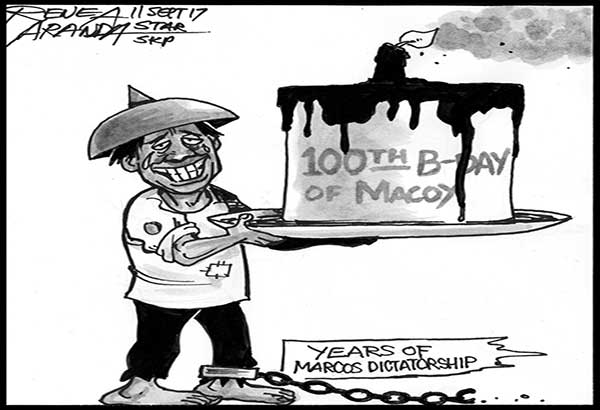 EDITORIAL - Winter has not come
(The Philippine Star) - September 10, 2017 - 4:00pm
Of course there will be celebration in Ilocos Norte today for the birth centennial of its favorite son. For the family of Ferdinand Marcos, however, there is even greater cause for celebration as his centennial is marked at his grave, at the cemetery that the clan preferred as his final resting place, the Libingan ng mga Bayani.
At least the nation's political leadership, according to initial reports, might stay out of the celebrations at the heroes' cemetery. Their attendance would rub salt on decades-old wounds that refuse to heal, mainly because no one has paid for the sins of the Marcos dictatorship. Billions of dollars in assets legally classified as ill-gotten have been confiscated or returned to the Philippine government, but not one of those responsible for the world-class plunder has gone to prison.
Imelda Marcos, the other half of the so-called conjugal dictatorship, is bloated possibly by medication and needs a wheelchair to move around. Yet she remains on the public payroll, in her latest incarnation as a congresswoman representing her husband's home province of Ilocos Norte. She continues to hold on to a substantial amount of wealth, including priceless paintings by the Old Masters that no Philippine president could have ever afforded to obtain legally.
No one has paid for the systematic violation of human rights under martial law – the knock on the door for an arrest without warrant followed by torture; the enforced disappearances; the summary executions. The nation has failed to establish who ordered the assassination of Benigno Aquino Jr. and Rolando Galman, and the low-ranking soldiers who went to prison for the twin killings have been freed, with much help from the Public Attorney's Office.
Marcos' eldest daughter Imee has reportedly offered to return assets, including several gold bars, in exchange for immunity from further lawsuits. The offer, disclosed by President Duterte, is in limbo. Returning such assets would not erase criminal liability, and it would be an admission that the wealth was obtained illegally.
As loyalists began weeklong celebrations, Imee Marcos was quoted as saying that "winter has not come" for the hero of Ilocos Norte, their home province where she is the governor. She is so right. The Marcoses have reason to hold a grand celebration today.
It's enough to make one weep.