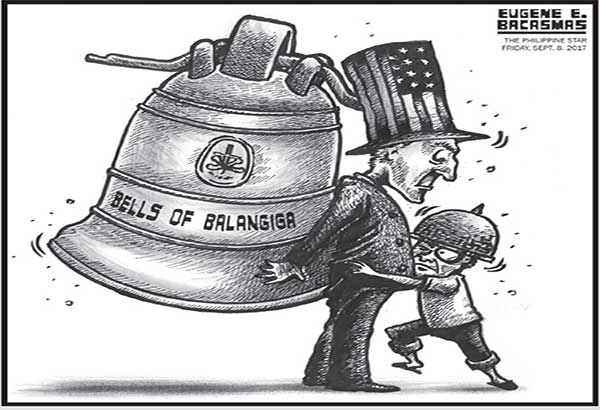 EDITORIAL - Waiting for the bells
(The Philippine Star) - September 7, 2017 - 4:00pm
To the victors, the spoils. Three bells from the town church in Balangiga, Eastern Samar have been on display for the past century at American military camps in the United States and South Korea.
On Sept. 28, 1901, at least one of the bells reportedly tolled to herald the start of an attack by Filipino fighters on Company C of the 9th US Infantry Regiment as the soldiers were having breakfast. The Filipinos reportedly brought weapons in a coffin in a mock funeral at the church, where they holed up until the hour of the attack. Forty-eight of the 78 American soldiers were killed while up to 25 villagers died.
According to several accounts, the brutality of the attack prompted US Army Gen. Jacob Smith to order his men to turn Samar into a "howling wilderness" in reprisal, with any male Filipino older than 10 ordered shot. Smith and his aide, Marine Maj. Littleton Waller, were court-martialed for the attack. Waller was cleared but Smith was found guilty and retired from the service. The charges, however, were subsequently dropped and he was regarded as a war hero. And the Balangiga bells have since been in Wyoming and a US military base in South Korea.
Filipinos have been trying to recover the bells for a long time, to remember the thousands who died during the Philippine-American War. As treaty allies, the bells should have been returned by the US to its former colony a long time ago. Although the bells tolled the start of what Jacob Smith considered a massacre of his men, the Americans were an invading force and the Filipinos were simply fighting for independence – an ideal that is held dear by the world's bastion of democracy.
Recently, US Ambassador Sung Kim said talks are underway for the return of the bells to the Philippines. The envoy has reported that there is general willingness in his country to return the bells. This is welcome news; the sooner the talks bear fruit, the healthier for bilateral relations.