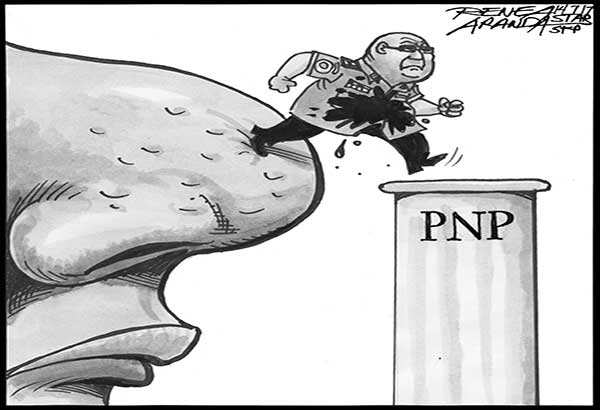 EDITORIAL - Reinstatement
(The Philippine Star) - July 13, 2017 - 4:00pm
Only four months ago, two Senate committees concluded that the killing of Albuera mayor Rolando Espinosa in his cell at the Leyte sub-provincial jail was "premeditated" and conducted "with abuse of authority" by a police team under Superintendent Marvin Marcos.
The conclusion reached by the Senate committees on public order and dangerous drugs under Panfilo Lacson, a former Philippine National Police chief, and justice and human rights under Richard Gordon was the same as that of the National Bureau of Investigation, which declared the case a rubout.
Marcos and 18 of his men in the PNP Eastern Visayas Criminal Investigation and Detection Group were subsequently indicted for murdering Espinosa and a fellow inmate, Raul Yap, allegedly to cover up the involvement of the CIDG in Espinosa's drug deals. The mayor's son Rolando Jr. or Kerwin had testified that Marcos and several CIDG members were receiving drug payola from Espinosa.
The Senate report provides a detailed description of the circumstances leading to the fatal shooting of Espinosa and Yap on Nov. 5 last year. Those details, aside from the conclusions of the Senate panels and the NBI, raise questions on the return to the police service of Marcos and his men.
From the start, the reaction of President Duterte to the killing of a man he described as a narco politician was that Espinosa got what was coming to him. The President also promised to defend the police team that went to the sub-provincial jail ostensibly to serve a search warrant before dawn so they could look for drugs and guns in Espinosa's jail cell.
While the President has no control over the judiciary, he has authority over the Department of Justice, whose head Vitaliano Aguirre II recently downgraded the criminal charges against Marcos and his cohorts from murder to homicide, a bailable offense.
The case remains pending, which should prevent reinstatement. PNP chief Ronald dela Rosa, however, has not only reinstated Marcos and his men but has also named him police commander for Region 12 – an area covering South Cotabato, Cotabato, Sultan Kudarat, Sarangani and General Santos City.
The message is undoubtedly not lost on PNP members: it pays to kill. If Marcos can't be assured of acquittal by the courts, the lucky police officer at least looks headed for a promotion and possibly even a medal for heroism.