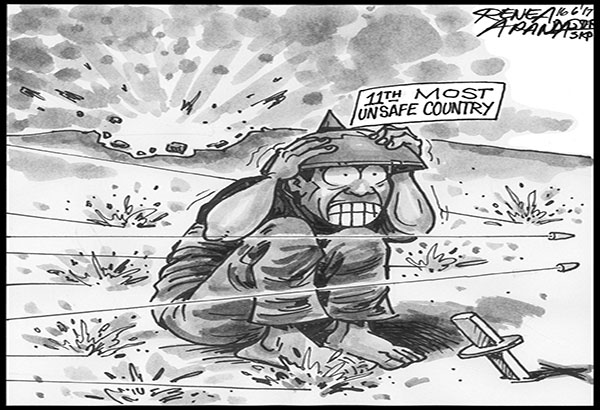 EDITORIAL - 11th most dangerous
(The Philippine Star) - June 15, 2017 - 4:00pm
The government disputed yesterday the Philippines' ranking as the 11th most dangerous country for tourists. Some people may scoff that in fact the country should be among the 10 worst, since the rankings were drawn up by the World Economic Forum before the Marawi siege started, and before a gambling addict attacked the Resorts World Manila casino in a rampage that left 38 people dead including himself.
Even without the results of the WEF's 2017 Travel and Tourism Competitiveness Report, which ranked the Philippines 126th among 136 states, for sure the country was already regarded as an unsafe place for tourists. Travel cancellations were reported when several countries issued warnings on the risks of being kidnapped by terrorists in Bohol and Cebu.
Beyond disputing the Philippines' ranking, the government can stress that in fact the world has become a dangerous place, with advanced economies including the United States the favorite targets of terrorist groups.
What differentiates countries – and reassures potential travelers – are the measures taken to keep tourists and everyone else safe. This is where the Philippine government will have to exert more effort to allay travelers' fears.
It's not just terrorism that is posing a serious threat to public safety; the country has become the homicide capital of Asia. This does not refer to the continuing drug-related killings, most of which remain unsolved. Private businessmen and public officials are also being executed in brazen attacks in broad delight.
The other day at the start of office hours, Bureau of Internal Revenue district chief assessor Alberto Enriquez was shot dead in a parking lot beside the BIR office along West Avenue in Quezon City by two men on a motorcycle. The murder of Enriquez followed the killing of BIR Region 8 director Jonas Amora along Katipunan Avenue in Quezon City last November.
Outside Metro Manila, mayors and barangay officials are being murdered with depressing regularity, with many of the cases unsolved, although political motives are often suspected. These are in addition to the thousands of drug-related killings, many of which are routinely attributed by police to vigilantes.
The Philippines is unsafe not just for tourists. Life has become cheap and it's easy to get away with murder. It's an unsafe country, and the government will have to do more to confront the problem.