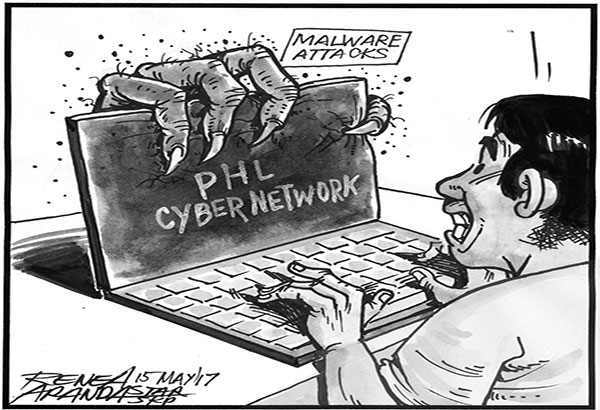 (The Philippine Star) - May 14, 2017 - 4:00pm
Websites of several government agencies and private companies have been hacked in the recent past, so the news about a global cyber attack using a ransomware program called WannaCry should raise alarm bells.
The attack, which demanded ransom payments emailed by web link or attachment in 28 languages, hit 230,000 computers running Microsoft Windows in 99 countries when it was launched last Friday. WannaCry reportedly used an infection vector developed by the US National Security Agency. A kill switch was quickly found, but an updated version reportedly lacks the kill switch.
As news of the WannaCry attack spread, Philippine authorities reassured the public that cyber security measures were being stepped up. The government is also setting up a secure data center in Subic. Events in the recent past, however, have exposed the continuing high vulnerability of the country to cyber attacks.
Last year the vulnerability was exploited in laundering $81 million through two Philippine casinos and a commercial bank. The money was stolen by hackers, believed to be from North Korea, from the Bangladesh central bank's account in the US Federal Reserve in New York. The cyber heist, still unsolved, prompted analysts to describe the Philippines as a "black hole" that could be exploited by cyber thieves and money launderers. The weakness in cyber security makes the country vulnerable to many other criminal activities that have been facilitated by the internet.
The country should not be lacking in tech-savvy individuals who can improve cyber security. Computer courses are among the most popular in the country, although many graduates are working overseas. In 2000, a Filipino computer graduate unleashed the "Love Bug" virus that wreaked havoc in at least 20 countries and caused losses estimated at up to $10 billion. Instead of using their skills for mischief, local techies can be tapped in fighting computer viruses and hackers. The WannaCry attack should give urgency to boosting cyber security.