14 hurt as protesters, police clash in Quezon City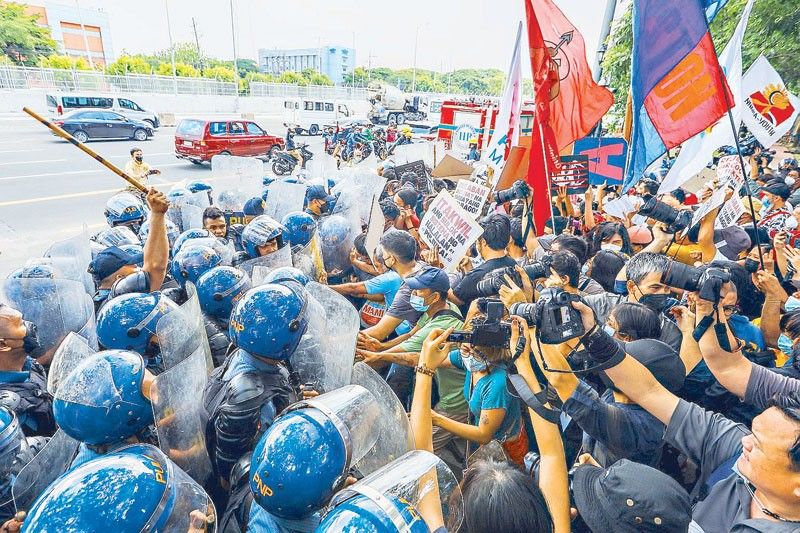 MANILA, Philippines — Fourteen people were injured after demonstrators and anti-riot police clashed in Quezon City yesterday.
Renato Reyes, secretary general of Bagong Alyansang Makabayan (Bayan), said the injured are all members of cause-oriented groups protesting the proclamation of Ferdinand Marcos Jr. and Sara Duterte-Carpio as president and vice president, respectively, at the Batasang Pambansa.
Members of Kilusang Mayo Uno, Agham, Selda, Bayan Muna and other militant groups were also present during the rally.
Reyes slammed the "overkill security measures aimed at terrorizing the people and preventing them from expressing their sentiments about the recently concluded polls."
Lt. Col. Ritchie Claraval, commander of the Anonas police station 9, said the protesters have only themselves to blame for their injuries.
Claraval said the demonstrators repeatedly kicked the shields of the police officers who were blocking in front of the Commission on Human Rights (CHR) office along Commonwealth Avenue in Barangay UP Campus.
Police said the protesters planned to march toward Batasang Pambansa despite lacking a permit from the local government.
"Pinagsisipa nila 'yung mga shields made of plastic. Nagkabasag-basag kaya nasugatan sila," Claraval said in an interview.
Police used a water cannon to disperse the protesters.
Despite using a water cannon, Claraval insisted the police exercised maximum tolerance.
Maj. Wennie Ann Cale, spokesperson for the Quezon City Police District, said around 200 protesters were present at the rally, which started at around 10:20 a.m.
The demonstrators held a short program and voluntarily dispersed at around 12 noon.
Rights advocate group Karapatan condemned what it described as the violent dispersal by the police of militant groups protesting the proclamation of Marcos and Carpio.
"Karapatan condemns the attempt of the police to disperse the peaceful indignation protest at the CHR compound using violent force," the group said in a statement.
Karapatan urged the CHR to look into the incident, saying the police violated the protesters' constitutional right to peaceful assembly.