SBP endorses Sotto as vice president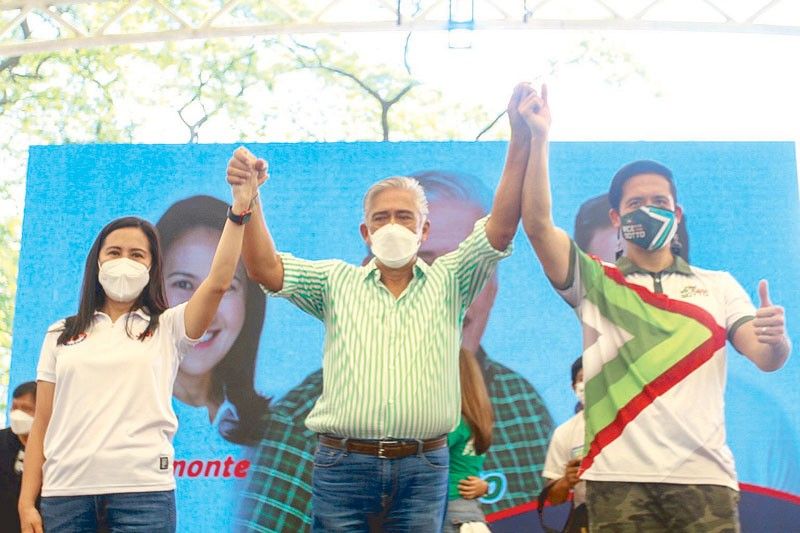 MANILA, Philippines — Senate President Vicente Sotto III is the unanimous choice of more than 100 members of the Liga ng mga Barangay of Quezon City as their vice presidential candidate.
Quezon City Mayor Joy Belmonte, who heads the local Serbisyo para sa Bayan Party (SBP), said 122 of their members rooted for Sotto as their vice presidential candidate due to his vast experience in public service, which started when he was first elected as the city's vice mayor.
She said their endorsement of Sotto, which was initially announced last year, was made after consultations with SBP members.
"SP Sotto was a unanimous choice of the members of my local party, (the) Serbisyo para sa Bayan Party," Belmonte told reporters yesterday following a gathering of barangay officials at the Quezon Memorial Circle, where they declared their support for Sotto.
Sotto is the father of Vice Mayor Gian Sotto, who is also a member of the SBP.
For his part, Sotto said he was gratified by the support as Quezon City has one of the largest voting populations in the country.
"It is here in Quezon City where I started my public service. I am humbled by the endorsement of the entire leadership of QC because this is more than enough to boost and inspire my candidacy," he told reporters.
Partido Reporma standard bearer Sen. Panfilo Lacson, who is Sotto's running mate, has yet to be endorsed by the group.
"When it came to discussing presidents, our members have not yet agreed on a certain (presidential) candidate. I am not an authoritarian leader, I like to consult with members so it's still possible that the party might later on endorse a president. But as of this time, we have not reached an agreement," Belmonte said.
She was initially committed to Sara Duterte for president. But Duterte later joined the vice presidential race.
Sotto, however, said he is optimistic that the "Liga" members will consider Lacson as their presidential candidate.
"There is a big chance, and it so happened that I was endorsed first because I am from this city," Sotto said.
Lacson said he would welcome the endorsement wholeheartedly, "if it's given... If not, then I will have to go directly to the people of Quezon City. In past elections, at least in the three senatorial runs that I had, I got good numbers from Quezon City. I hope I can maintain that mandate and support from them."