PNP helicopter crashes in Quezon; 1 dead, 2 hurt
February 22, 2022 | 12:00am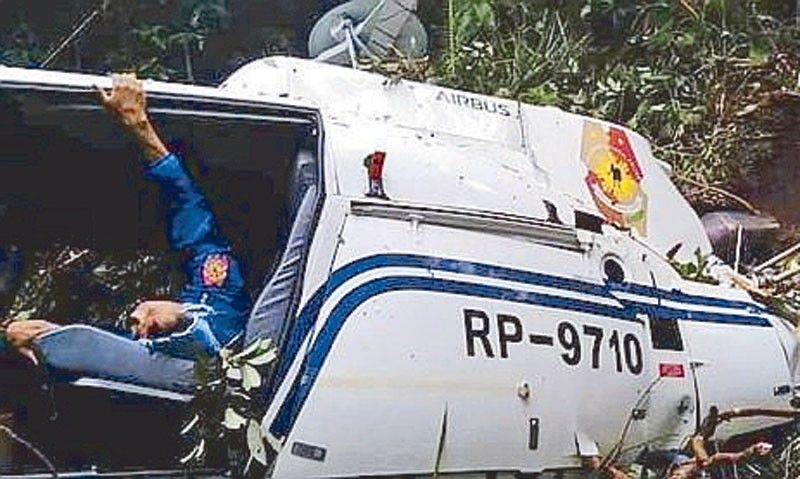 MANILA, Philippines — A police officer died while two others were injured when a helicopter of the Philippine National Police (PNP) figured in an accident in the mountains of Real in Quezon province yesterday morning.
Pat. Allen Noel Ona died while being treated by paramedics near the crash site located in Purok Mayaog, Barangay Pandan, according to PNP public information chief Brig. Gen. Roderick Alba.
Lt. Col. Dexter Vitug and Col. Michael Melloria, pilot and co-pilot, respectively, were taken to a hospital in Infanta for treatment. They are in stable condition.
The PNP Air Unit said the H125 Airbus was headed to Balesin Airport to pick up PNP chief Gen. Dionardo Carlos and other officials.
Carlos was in Quezon to spend time with his family. He was set to return to Manila yesterday on a commercial flight that became unavailable, according to PNP spokesperson Col. Jean Fajardo.
"The commercial flight was available only in the afternoon and he needed to return to Camp Crame immediately," Fajardo said.
The helicopter was reported missing hours after it took off from the Manila Domestic Airport in Pasay City at 6:17 a.m.
Quezon police director Col. Joel Villanueva said they received a call at around 8:15 a.m. from the PNP Air Unit informing them about the crash in Real town.
Personnel of the local police, Bureau of Fire Protection and municipal action center rushed to the crash site.
The PNP Command Center said it was raining in the area when the helicopter flew by.
Fajardo said Carlos had spoken with the pilots who said they encountered a sudden gust, causing them to lose control of the helicopter.
The PNP National Headquarters said it grounded the entire fleet of the H125 Airbus. An investigation is underway in coordination with the Civil Aviation Authority of the Philippines, the Department of Transportation and other concerned agencies.
Police have yet to determine the cause of the mishap.
In March 2020, PNP officials including then PNP chief Archie Gamboa figured in a similar accident in San Pedro, Laguna.
The mishap prompted the PNP to ground all its air assets and reevaluate the capacity of the pilots. – Arnell Ozaeta, Ed Amoroso