AMLC freezes assets of 2 alleged drug money launderers
September 28, 2021 | 12:00am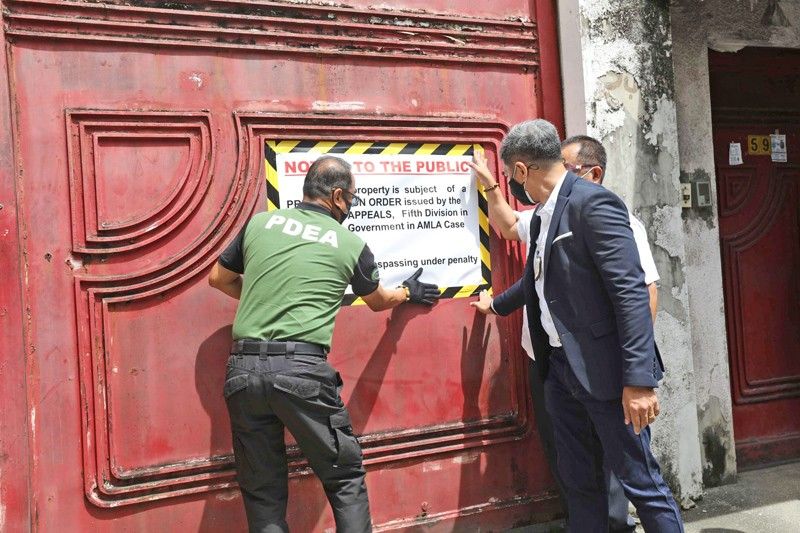 MANILA, Philippines — The assets of two suspected money launderers involved in a P1.8-billion illegal drug shipment in 2019 have been ordered frozen by the Anti-Money Laundering Council (AMLC), the Philippine Drug Enforcement Agency (PDEA) reported yesterday.
The PDEA said the bank accounts, insurance policies, real properties and vehicles of Julie Hao Gamboa were frozen by the AMLC following a go-signal from the Court of Appeals.
Gamboa has no registered business but maintains a total of 81 bank accounts that transacted millions of pesos, according to the AMLC. She also has three real properties and four motor vehicles.
Former Customs police member Ruben Taguba, who was found to have had a joint bank account with Gamboa, also had his assets frozen by the AMLC. The court order also covers the assets of his wife Teresita.
According to PDEA, Taguba has 21 properties registered under his name and allegedly made hundreds of millions of pesos worth of bank transactions using 21 different bank accounts.
Taguba's son, Mark, is the subject of a separate probe involving the shipment of 602 kilos of shabu confiscated at a warehouse in Valenzuela City in May 2017.
The freeze order covers 173 bank and credit accounts as well as insurance policies, 17 properties in Quezon City worth about P70 million and five motor vehicles owned by the suspects, the PDEA said.
"The posting of preservation orders on the properties sends a strong message to drug money launderers that the PDEA, AMLC and Bureau of Customs (BOC) will continue to intensify the campaign against those involved in the drug trade," PDEA chief Wilkins Villanueva said.
On March 22, 2019, PDEA and BOC agents intercepted a total of 276 kilos of shabu worth P1.8 billion at the Manila International Container Port. The drugs were stashed in tapioca packs and shipped from Vietnam.
The Department of Justice filed drug charges against suspected Chinese drug trafficker Xu Zhi Jian and 16 others.
Xu Zhi, said to be the owner of the drug shipment, has no registered businesses and properties under his name.
Authorities said Xu Zhi managed 70 bank accounts that transacted hundreds of millions of pesos from 2004 to 2019, including transactions with entities that are the subject of separate drug-related civil forfeiture cases.
"We will be working with the AMLC to trace the trail of drug money, arrest and forfeit the assets of these money launderers," Villanueva said. – Lawrence Agcaoili