Belmonte pushes local food security plans for future crises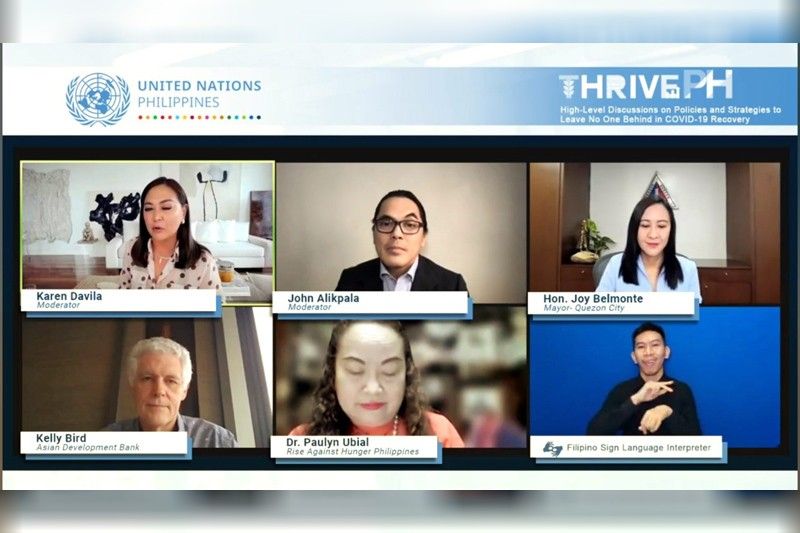 MANILA, Philippines — There should be food security action plans at the local level to ensure that people are prepared for future crises, Quezon City Mayor Joy Belmonte said yesterday.
During a high-level discussion on policies and strategies for COVID-19 recovery organized by the United Nations (UN) Philippines, Belmonte said last year's lockdown was a traumatic experience for Metro Manila's largest city.
Local government units (LGUs) had to immediately provide relief aid, through food and cash, to residents after the imposition of the first round of enhanced community quarantine (ECQ) in Metro Manila.
"It strained our resources. It should have been planned better and we depended too much on the national government then," Belmonte said.
She noted that Quezon City decided to "be more self-reliant and one of the things we did was to establish urban gardens and farms. We now have 166 in Quezon City, which are a source of nutrition for many of our underprivileged families."
While LGUs have learned to be more efficient since the pandemic, Belmonte said they still need more capacity building from the UN and other international organizations.
She emphasized that a local food security action plan will not just be about COVID-19 but for climate change disruptions that would happen in the country.
"Food security is central, but I don't think any city has a local food security action plan," Belmonte said.
She added that Quezon City poured more of its budget resources this year into social protection and social welfare instead of infrastructure and other big-ticket projects.
"With a plan like that, we will know how to budget properly and what programs and policies need to be enacted given other certain disruptions in the country," Belmonte said.
Kati Tanninen, UN Food and Agriculture Organization representative, echoed the same sentiment, saying it is important to bring in an anticipation element in the plans.
Tanninen said the pandemic has resulted in input supply and labor mobility difficulties, cash flow constraints that reduced connectivity to markets, logistical bottlenecks and food losses, among others.
Moving forward, UN Philippines said the crisis has highlighted the need for current food systems to transform in order to thrive, withstand and recover from potentially worse future disasters and emergencies.
"This can be done by recognizing the importance of smallholder farmers as producers and supporting them during emergencies to allow their recovery in food production," Tanninen said.
The UN also noted the need to create shorter food value chains and dispersed agri food distribution systems, develop urban food space, ensure multi-hazard and interoperable monitoring and early warning systems, and come up with cohesive intra-governmental mechanisms to prepare for food systems disruptions.
It also recommended reforms for more effective food supply chain management, inclusive capacity-building for digital and technological innovations, and social protection and safety nets for food systems actors, among others.