Navotas launches vax one, take one drive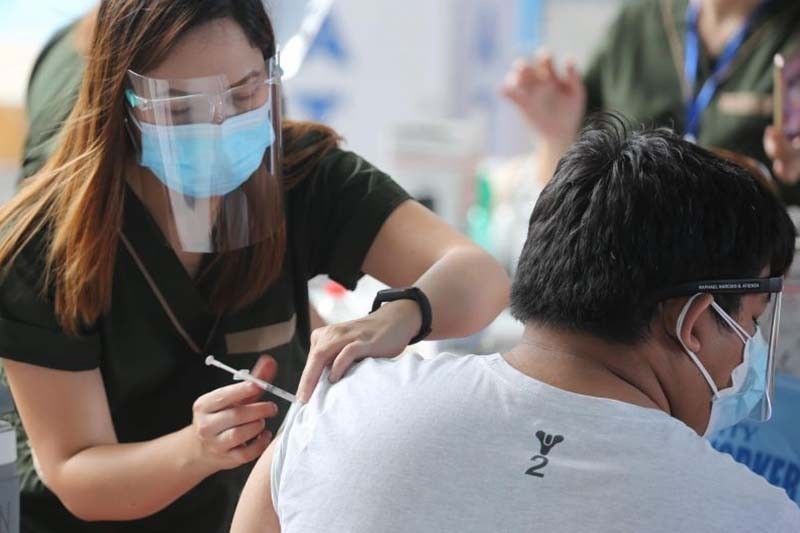 MANILA, Philippines — To convince more residents to get vaccinated, the Navotas City government has launched a program wherein companions of senior citizens who want to receive COVID-19 vaccines will also be vaccinated.
Mayor Toby Tiangco announced on Thursday night that the city government started its "Vax 1, Take 1" program at the Tangos National High School and Tanza Elementary School.
Under the program, the senior citizen and his or her companion, who is aged 18 to 59, will be injected with Johnson & Johnson's Janssen COVID-19 vaccine, which requires only one dose to be fully vaccinated.
The city government is in a rush to vaccinate all elderly residents of the city, with only 63 percent of them getting COVID-19 jabs so far, he said.
"Sa senior naming medyo mabagal so may gimik kami (For our seniors, who are slow, we have a gimmick)," he told "The Chiefs" on One News/TV5, referring to the turnout of the city's COVID-19 vaccination for senior citizens.
Elderly residents may sign up online or at vaccination sites, Tiangco said.
The Janssen vaccine would also be given to bedridden residents in Navotas' house-to-house vaccination program, he added.
The city government received 1,600 doses of the single-dose Janssen vaccine, which the national government received from the United States government through the COVAX Facility, as well as 2,900 out of the 100,000 doses of the AstraZeneca COVID-19 vaccine that the city government ordered.
Tiangco also said that 103,844 out of the estimated 150,000 residents who must be vaccinated for the city to achieve herd immunity have received their first doses of the COVID-19 vaccine.