Body cams: PNP seeks dialogue with SC justices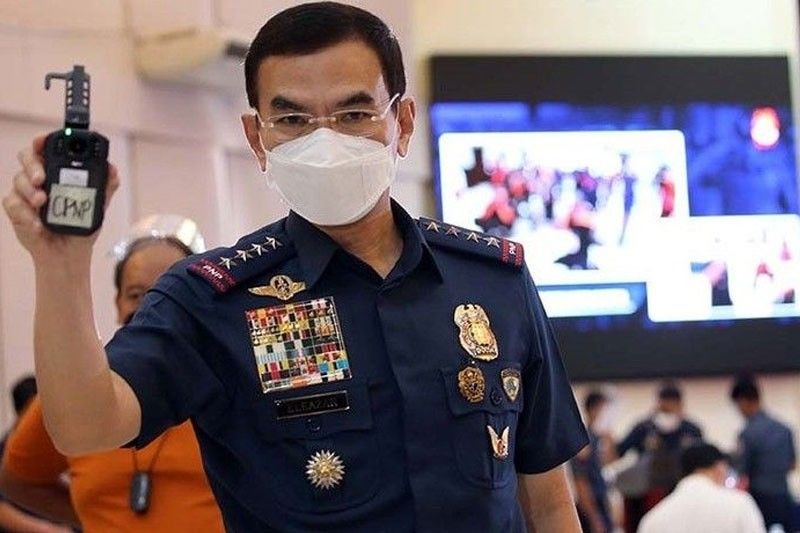 MANILA, Philippines — Philippine National Police (PNP) chief Gen. Guillermo Eleazar wants to hold another dialogue with Supreme Court magistrates regarding some of the guidelines issued by the SC on the use of body cameras in serving arrest and search warrants.
Eleazar said members of the technical working group, which the PNP created to study the SC rules have voiced reservations about some of the provisions.
"We have issues and concerns that we want to raise with SC justices," Eleazar told "The Chiefs" on One News/TV5 on Wednesday night.
Among the guidelines is requiring police to use at least two alternative recording devices in the absence of body cameras.
According to Eleazar, they must have dedicated cell phones for personnel who are involved in law enforcement operations. The other concern is that police officers could be at risk when using mobile phones during the serving of warrants.
"Paano 'yung pagsugod mo nakahawak ka ng cell phone hindi ba? So hindi siya designed for that," Eleazar said.
Another issue is the SC's requirement to record on video all arrests made by the police to be submitted in court.
"You could just imagine that every apprehension that we will make ay meron tayong parang storage device or USB drive," Eleazar said.
The PNP has distributed 2,696 body cameras to police units.
Eleazar said the number is not enough as they still need at least 30,000 more to cover all police offices across the country.
Search warrants
Meanwhile, the PNP said the scrapping of the power of judges in Manila and Quezon City to issue search warrants to other jurisdictions could pose problems for law enforcers.
Eleazar expressed concern over the SC decision disallowing Manila and Quezon City courts to authorize police search operations in the provinces.
He explained that the reason behind the previous arrangement was to prevent police targets from getting wind of the impending operations against them.
"Iniiwasan kasi 'yung leak of information," Eleazar said.
Earlier, critics said the search warrants issued by Metro Manila judges were being weaponized against people perceived as enemies of the administration.