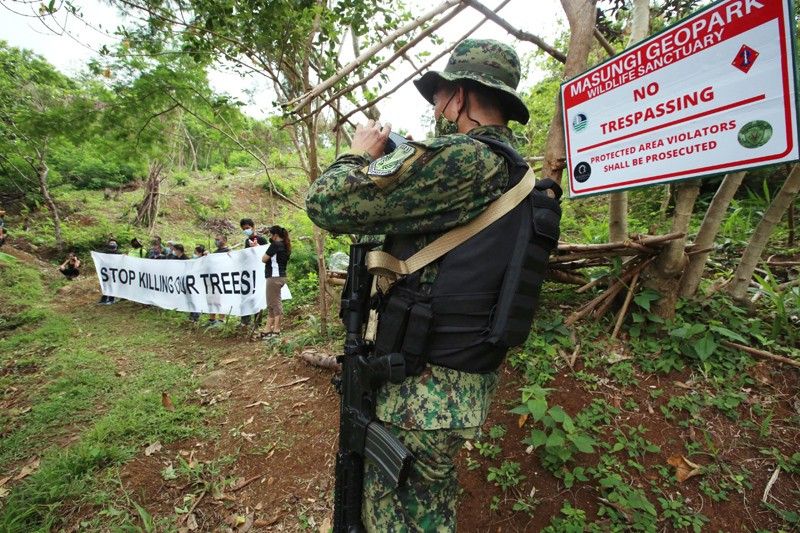 A police officer takes photos of an illegal clearing in the Upper Marikina River Basin Protected Landscape during a documentation mission to mark World Rainforest Day yesterday. Officials led by Interior and Local Government Assistant Secretary Manuel Felix, Rizal Provincial Police director Col. Joseph Arguelles, Masungi Georeserve volunteers and members of the Dumagat-Remontado indigenous group took part in the mission to take photos and videos of damage to trees in the area, which serves as Metro Manila and Rizal's defense against floods and landslides.
Ernie Peñaredondo
CHR pushes stricter implementation of environmental laws
Janvic Mateo
(The Philippine Star) - June 23, 2021 - 12:00am
MANILA, Philippines — The Commission on Human Rights (CHR) yesterday expressed support for the creation of an office that will ensure the strict enforcement of environmental laws in the country.
CHR spokesperson Jacqueline de Guia described as a "positive step" the creation of an interim office within the Department of Environment and Natural Resources (DENR) that will be in charge of implementing existing laws protecting the country's rich ecosystems.
The interim office was established pending the approval of the proposed legislation that would create a permanent Environmental Protection and Enforcement Bureau that will consolidate in a single office the DENR's mandate to enforce environmental laws.
"CHR emphasizes that much is at stake if we will continue to disregard the environment and let violators, such as illegal loggers and wildlife poachers, scot-free," said De Guia.
"An adequate, healthy environment is a necessary condition to make all other human rights possible, including rights to life, food, health and adequate standards of living," she added.
De Guia cited the International Covenant on Economic, Social and Cultural Rights that underscores the government's obligation to uphold everyone's right to live in an environment conducive for their health and well-being.
She also stressed the need to recognize the duty of individuals and corporations to also protect the environment for the generations to come.