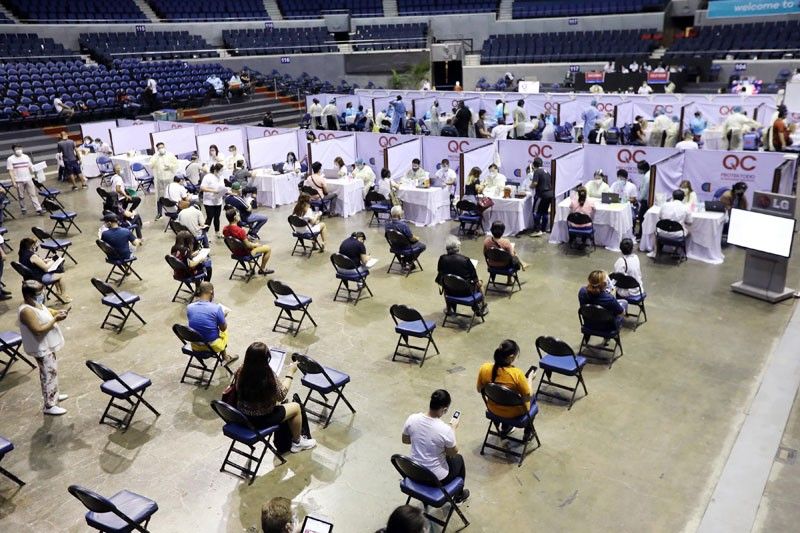 Residents line up to receive their COVID vaccine dose at the Smart Araneta Coliseum in Quezon City yesterday.
Boy Santos
Quezon City opens Araneta mega vaccination site
MANILA, Philippines — The Quezon City government yesterday opened its mega vaccination site at the Smart Araneta Coliseum in Cubao.
Some 1,000 residents belonging to priority groups received their first doses of AstraZeneca vaccines during the first day of vaccination at the facility.
The Araneta Group earlier agreed to allow the city government to use the facility to strengthen the vaccination rollout and hasten the delivery of vaccines to priority groups.
"We estimate that the Big Dome will be capable of delivering 1,000 to 1,500 COVID shots per day," Mayor Joy Belmonte said in an earlier statement.
"The Quezon City government is grateful to the Araneta Group for offering the Big Dome to this program for free. It is a suitable site for a massive and critical government health drive since it offers adequate space and accessibility to both our healthcare workers and the public," she added.
Several measures were implemented to ensure the safety of those who will get their jabs at the facility, including installation of proper filters and fan systems.
Vice Mayor Gian Sotto personally visited the site to observe the first day of vaccination, which was led by medical personnel from the Araneta Group and volunteers from the Tzu Chi Medical Foundation.
The city government reminded residents that no walk-ins are allowed at the mega vaccination site, adding that only those who have booked online will be inoculated.
As of Saturday, the city said it has already vaccinated over 158,000 residents belong to priority groups, including around 60,000 who received their second dose of COVID-19 vaccine.