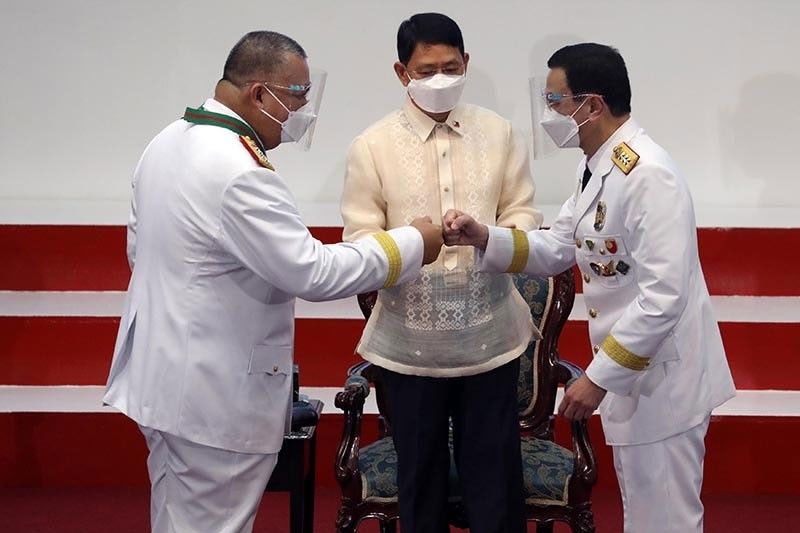 Police Lieutenant General Guillermo Eleazar formally assumes post as the 26th chief of the Philippine National Police on May 7, 2021 during the change of command ceremony in Camp Crame in Quezon City attended by Police Major General Debold Sinas and Department of the Interior and Local Government Secretary Eduardo Año.
The STAR/Boy Santos, file
Eleazar vows to purge PNP of scalawags
MANILA, Philippines — Newly installed Philippine National Police chief Gen. Guillermo Eleazar yesterday vowed to run after police scalawags as he starts his campaign to reform the PNP, which has been accused of corruption among its ranks.
Eleazar said he would not hesitate to relieve police misfits who have been compromising the integrity and nobility of their profession.
"Sa mga natitirang hoodlums in uniform, I will make sure that you will hate me. Hindi ako magdadalawang isip na magtanggal ng mga tiwaling pulis," he said in his speech during the change of command ceremony at Camp Crame in Quezon City.
The country's 26th PNP chief is known as a strict disciplinarian, who will not hesitate to impose sanctions on corrupt police officers.
Interior and Local Government Secretary Eduardo Año, who presided over the ceremony, urged Eleazar to transform the PNP into a highly capable, effective and credible police organization by weeding out scalawags.
"Purge the PNP of misfits and ineffective personnel without sacrificing the morale and welfare of our workforce," Año said.
Eleazar said law enforcers who are involved in corruption have no place in the PNP and should be dismissed immediately from the service, which has been the policy of President Duterte.
Eleazar ordered police commanders to closely supervise their subordinates to ensure that nobody gets involved in illegal activities.
"I will dismiss rogue police officers dahil sa laki ng suweldo at benepisyo na ibinigay sa ating ng gobyerno, sigurado akong maraming gustong pumalit sa inyo," he said.
Eleazar assumed leadership of the 220,000-strong police force from former Gen. Debold Sinas, who will retire today.
Eleazar will serve as PNP chief for six months or until his retirement on Nov. 13.
'Padrino' sytem
He also promised to put an end to the "padrino" system in the PNP, wherein those qualified are bypassed in favor of applicants with strong backers.
Through a QR (quick response) code system, aspirants can become police officers solely on merit, Eleazar said.
"Naging kalakaran na kasi na kung papasok ka ng PNP kailangan may kilala ka, otherwise baka ma-slash ka o hindi mapili," he said.
To ensure that his goals are achieved, Eleazar yesterday launched his Intensified Cleanliness Policy, which will be implemented in police community precincts (PCPs). The ICP covers basic principles in improving the PNP's image through cleanliness in all police offices and stations.
Eleazar stressed that PCPs and stations are considered windows of the PNP, which should be clean at all times.
Body cameras
Sen. Grace Poe urged Eleazar to include in his "first mission orders" the PNP's compliance with the Supreme Court order for police officers to wear body cameras when serving arrest and search warrants.
Poe expressed confidence that Eleazar will most likely take the initiative, adding that he has a track record of being steadfast in his drive to improve professionalism in the PNP.
"PNP chief Eleazar has been known to conduct inspections and make sure that his officers are performing to the best of their ability. I'm hopeful that he will push for the use of body and dash cameras to make our police force more professional in the field," she said.
Poe said body cameras are an affordable technology embraced by police forces all over the world. – Paolo Romero